Thousands of Colombians march through the streets with white flowers in support of FARC peace deal
President Juan Manuel Santos has applauded the outburst of activism as people are jolted into action by the fading prospects for peace.
Thousands of people marched through the streets of various cities in Colombia on Wednesday (12 October), demanding that the peace deal made between the government and leftist rebels not be abandoned.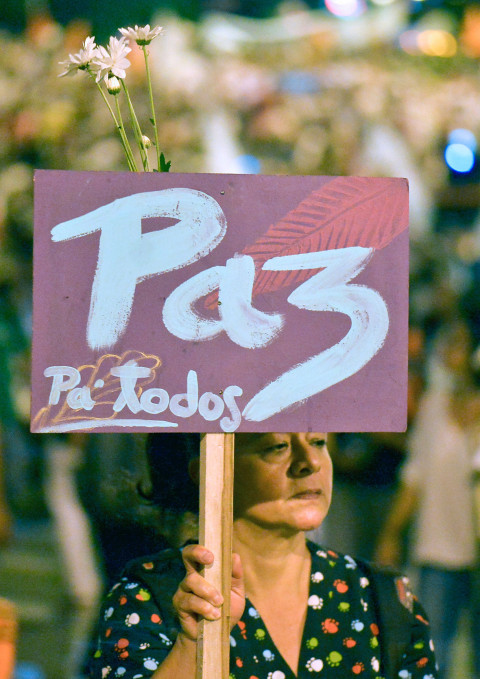 It's the second time in a week that Colombians haven taken to the streets. One rally, which took place on the Plaza Bolivar, Bogota, appeared to be larger than any other, a sign of how politically apathetic Colombians have been jolted into action by the fading prospects for peace. "We victims are in a state of limbo, we need the accord now," Diana Gomez, 38, told the Associated Press. Gomez's father was an activist, and was killed a decade ago. Gomez said her father's murder remains unsolved — one of the many of crimes which remain unanswered during the bloody conflict that claimed the lives of 220,000 people and left almost 8million displaced.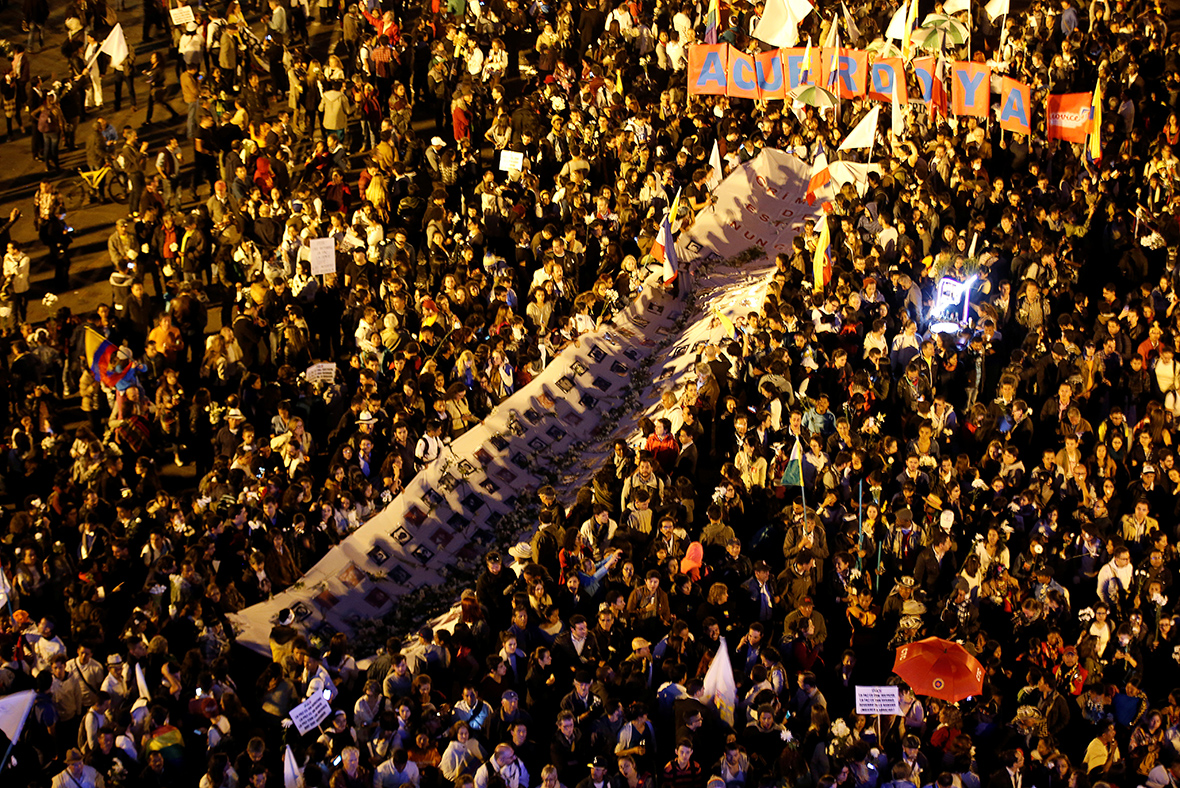 Photographs of the march in Cali, a city south-west of the capital, show how strongly participants felt about the accord being put in place and which would play a vital role in repairing the effects caused by the conflict. Victims carried photos of deceased loved ones, while others held white flowers as a sign of peace.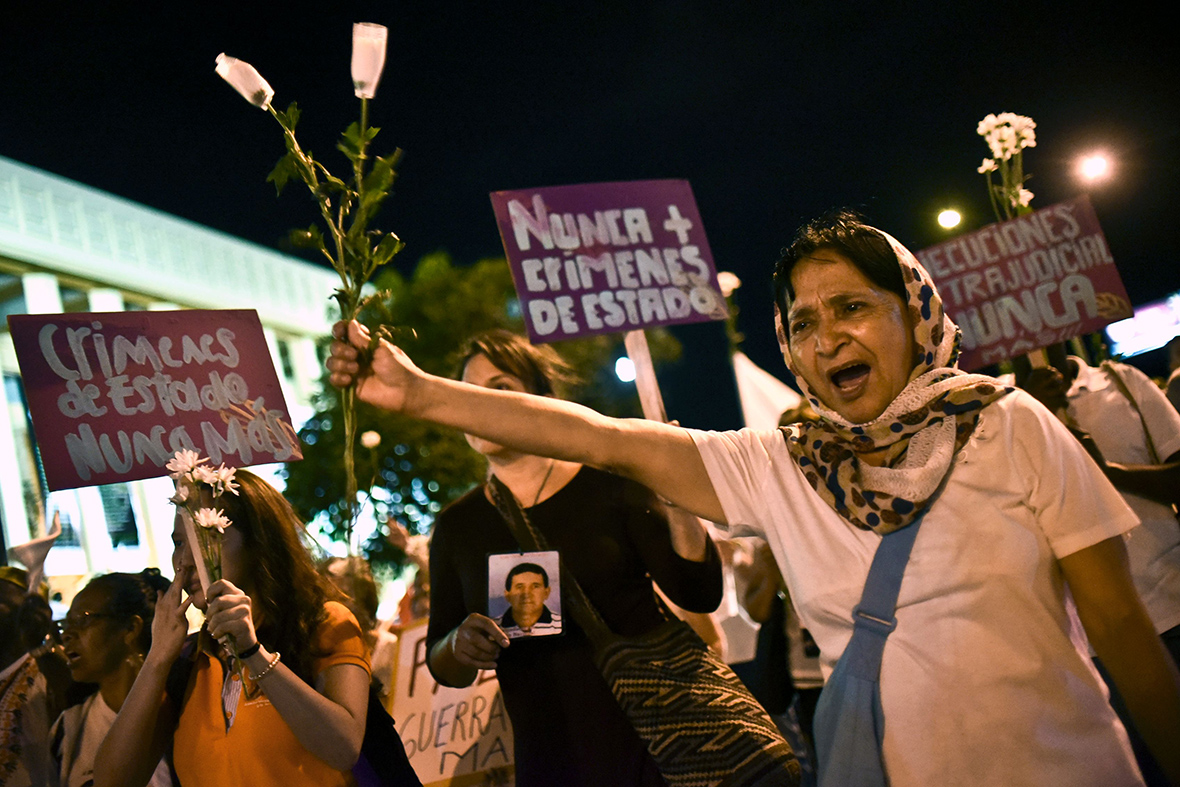 Signed on 26 September, the accord made between the Colombian government and the Revolutionary Armed Forces of Columbia (FARC) is now under threat, following a referendum vote which saw it narrowly rejected six days after it was signed. President Juan Manuel Santos, winner of this year's Nobel Peace Prize, is now in talks with opposition leader Timochenko and FARC to make adjustments to the agreement. Timochenko said that the guerrilla group is open to making adjustments, even if it's not willing to start negotiations from scratch.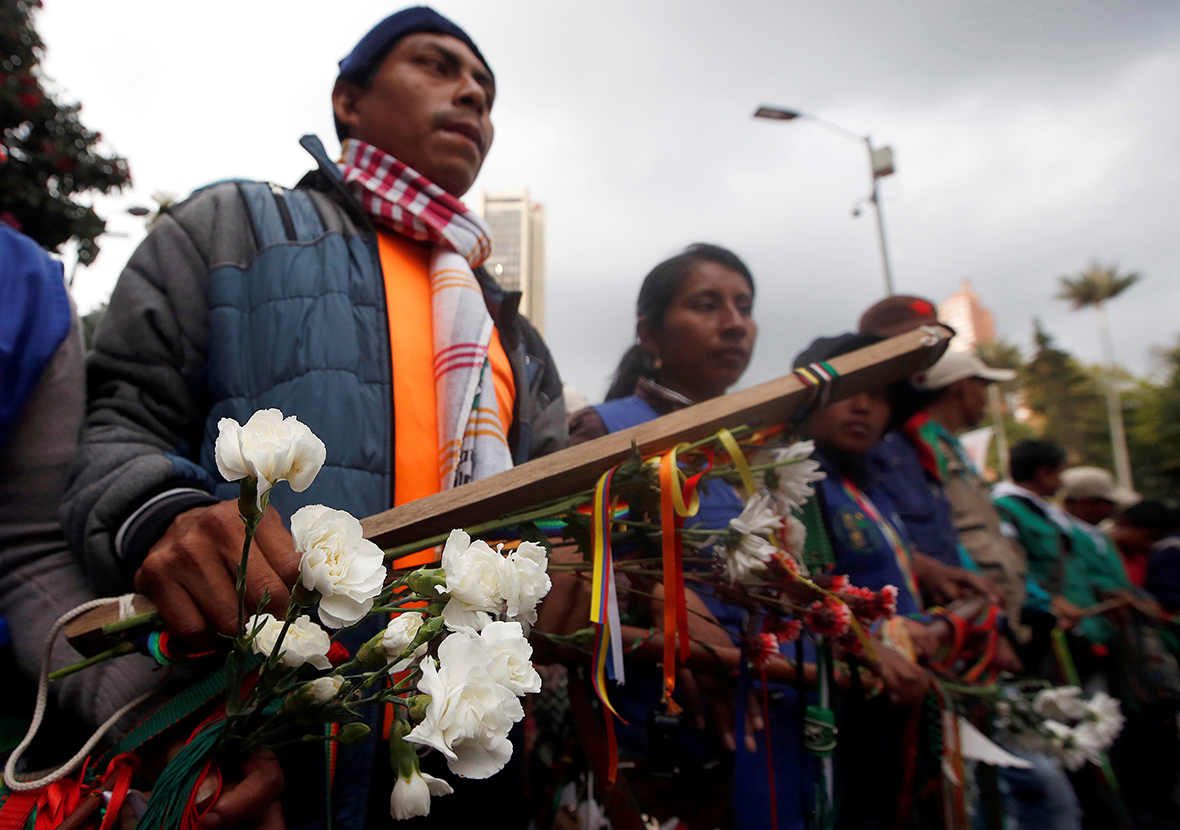 Under the terms of the accord, guerrillas who confess their war crimes will be spared time in prison and instead will be ordered to carry out community development work in areas affected by the decades-long conflict. However, it is still now clear whether the deal can be saved, as opponents push for harsher penalties for rebel leaders widely loathed by Colombians. Santos has applauded the outburst of activism, and reiterated the need to seek a quick solution to the impasse so that the ceasefire doesn't unravel.