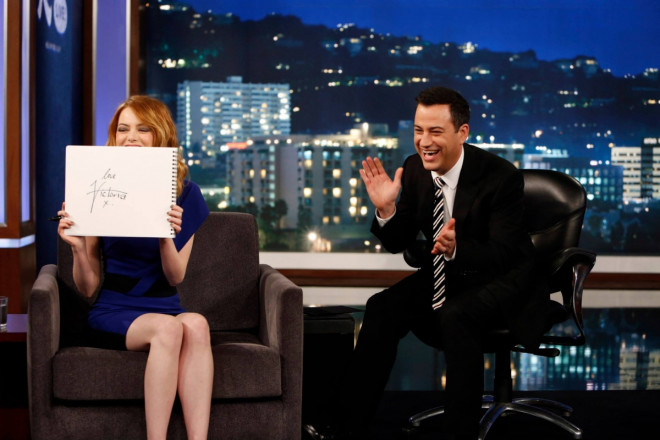 Jimmy Kimmel has done it again. The popular talk show host asked his celebrity guests to read some mean tweets about them posted by fans on Twitter, raising cheer among the show's fans and followers.
ABC's late night show, Jimmy Kimmel Live, has released the latest edition of 'Celebrities Read Mean Tweets.' The video has gone viral on YouTube with more than 3 million people watching it.
The funny video features popular actors such as Julia Roberts, Matthew McConaughey, Emma Stone and Ashton Kutcher reading offensive tweets about them. The celebrities were amazingly sporty while reading the cruel notes meant for them.
Roberts, Academy award winning actress, laughed while reading a tweet in which a user described her mouth as 'gigantic.'
Stone was stunned to learn that a fan thought her face smelled like cat piss while McConaughey was confused why would anybody call him 'd--k turd'.
Watch the video below:
Meanwhile '#MeanTweets' is trending on Twitter, where fans are raving the latest instalment from the popular talk show Jimmy Kimmel's Live.
Here are some fan tweets below.
I love the #meantweets segment @JimmyKimmelLive it was so much fun watching celebrities reading negative tweets bout them! #keepitup LOL

— Miranda Ru (@Ruth_OrtizGil) 23 May, 2014
I just sat here and cracked up watching Jimmy Kimmel's #MeanTweets — B (@bridget_tee) 23 May, 2014
I want to write a mean tweet about a celebrity just so they will read it on #meantweets @JimmyKimmelLive But I'm just not that mean

— Erin Burton (@erin_liz15) 23 May, 2014
@deeweeezie @teeenuh89 I got my whole weeks worth of laughing in one session. watched them all on YouTube. ppl are mean! #meantweets — Jeniffer Chun (@jenichun45) 23 May, 2014
#jimmykimmel #MeanTweets is probably the funniest thing in this world the stars reactions are priceless!

— Stephanie Boone✨ (@stephaniel_boo) 23 May, 2014
We need more!!! And please tell Melissa McCarthy to stop making fat girl characters look so sad hungry and pathetic #MeanTweets — Tanya (@tatonluv) 23 May, 2014