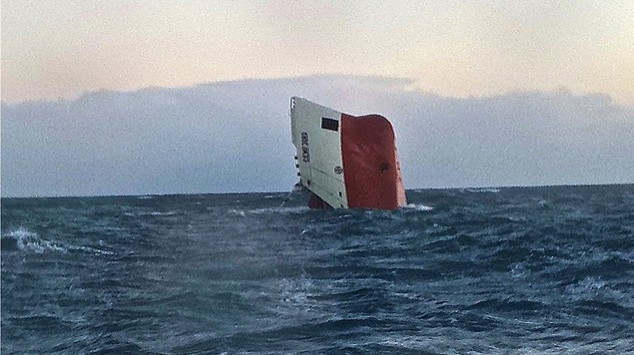 Lifeboats searching for eight crew members of cargo vessel Cemfjord, which overturned off the coast of Scotland, have returned home reporting that the chance of finding survivors as being "very slim".
The boat, which was carrying a load of cement from Denmark and was crewed by seven Poles and a Fillipino, was found overturned by a passenger ferry in the Pentland Firth off Scotland's north coast on Saturday.
The crew had not sent out any distress signals, and lifeboats and helicopters sent by the Maritime and Coastguard Agency (MCA) have found neither bodies nor survivors.
MCA watch manager Susan Todd told the BBC the chances of finding survivors were very slim: "That's correct. Obviously our thoughts are with the families of those involved at this time.
"However we are making best use of daylight and reasonable weather conditions today and we will maintain the search effort through the hours of daylight, looking for people in the water or any signs of wreckage or debris from the vessel – liferafts, lifeboats, etc."
It is understood that air and coastline searches are continuing.
The last time the vessel was seen was about 1pm on Friday, 2 January.
The alarm is believed to have been raised by the crew of the ferry Hrossey at 2.30pm on Saturday, about 10 miles from the Pentland Skerries, and 15 miles from Wick.
The vessel, which was travelling to Aberdeen, stopped, and searched the area for survivors after finding the upturned vessel.
Passenger Caitlin Ditchfield told the BBC: "About two hours into the journey, the NorthLink ferry we were on strangely stopped in the middle of the sea.
"Then from the window we could see the hull of the cargo ship in the water.
"After a while the captain made an announcement that he had called the three closest coastguards, but they had asked that the ferry conduct a search while the lifeboats made their way to us.
"The ferry started to circle the ship looking for any debris. We were at the scene for two-and-a-half hours before the coastguards said we could carry on with our journey."
On Saturday, a spokesman for Brise of Hamburg, which owned the vessel, said: "The crew consists of seven Polish seafarers and one Filipino mariner. The company is in the process of informing the families."