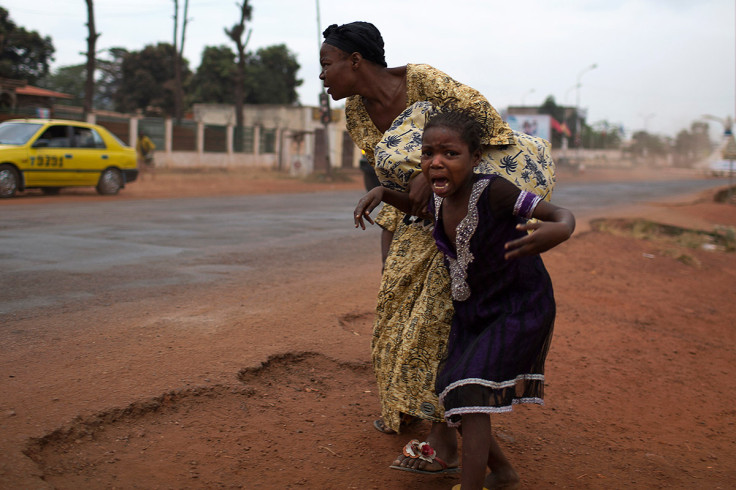 At least 30 people have been killed over the last three days in continuing bloodshed in the Central African Republic capital of Bangui, Red Cross officials said.
Heavily armed militia are reportedly butchering people for ethnic reasons, even in the presence of peacekeeping forces.
Gangs armed with machetes hacked a man to death as French troops looked on, awaiting instructions from their base. By the time they fired warning shots 10 minutes later, the mob had killed the man, AP reports.
In several towns, Muslims have been massacred and mosques razed.
Recently, when a Muslim neighbourhood in Bangui was freed from Seleka control, Christian Anti-Balaka fighters arrived at the scene and chased away the remaining inhabitants.
CAR has been in chaos since the Muslim rebel group Seleka seized power in March 2013, uprooting Christian former president Francois Bozize, and installing their leader Michel Djotodia as the transitional head of government.
Loose gangs of militia sprang up under Seleka leaders who unleashed terror on the Christian population.
The country plunged into anarchy following the clashes between Muslim and Christian militia, known as Anti-Balaka.
Djotodia was forced to quit under international pressure for failing to control the spiralling violence in January. He has since fled to Benin and many other Seleka commanders are fleeing the country, fearing imminent defeat.
The security vacuum left by the abrupt departure of the president has left the country in an extremely volatile situation.
"Now, it is every officer for himself. We are all trying to find our own way out of here", General Isa, the former head of presidential security for Seleka, told the Independent.
As Seleka rebels flee, the Muslim community is bearing the brunt of retaliatory attacks by Anti-Balaka for crimes committed by Seleka in the last 10 months.
African Union Peacekeepers
Nearly 6,000 African Union peacekeepers (known by the acronym MISCA) and 1,600 French troops are deployed in CAR.
The French troops patrolling the country seem reluctant to play an active role in combating the violence around them.
However, experts point out that Africa's MISCA peace keeping forces are making a crucial difference.
"Any place you see MISCA, the level of violence is much lower," Amnesty's Joanne Mariner, senior crisis adviser for Amnesty International, told Time.
"We're calling on regional forces to put an end to the violence and ensure the protection of the population," Nadia Dibsy, a spokeswoman for the Red Cross, told the NY Times.
Human rights groups have also advised the troops to focus on communities where militias are regrouping and staging new attacks.
According to UN estimates, over 1,000 people were killed in the CAR in the last two months, while more than one million people have been displaced over the past year.