Chinese telecommunications giant Huawei used its CES 2013 press conference to unveil two new smartphones: The long-rumoured Ascend Mate with a 6.1 inch screen and the smaller, more powerful Ascend D2, with a 5 inch screen.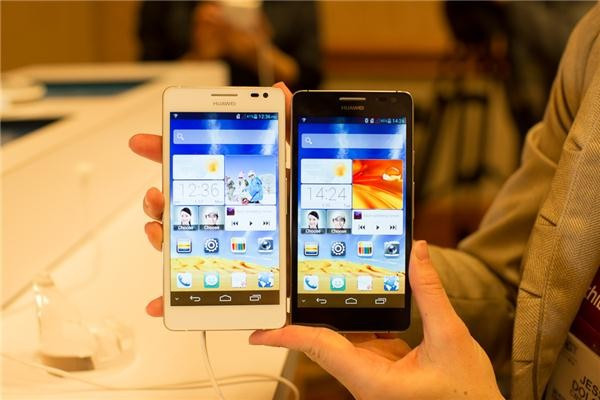 Follow all the latest news live from Las Vegas right here on our CES 2013: Live Blog
Consumer business CEO Richard Yu took the stage to present, firstly, the larger Ascend Mate. Explaining that the company was moving into providing higher-end smartphones, Yu said that the consumers today were finding things "a little bit complicated" since they carry several different devices around with them. He said that the future of Huawei and smartphones was in "all-in-one" devices, demonstrating the Ascend Mate, which, with its 6.1 inch, 720p display has the largest screen of any smartphone in the world.
Ascend Mate
It also features a 1.5GHz quad-core processor, 2GB RAM and an 8-megapixel camera, as well as "Magic Touch" technology, similar to a Nokia Lumia, which allows you to interact with the touch screen even while wearing gloves. Yu demonstrated this live towards the end of the conference.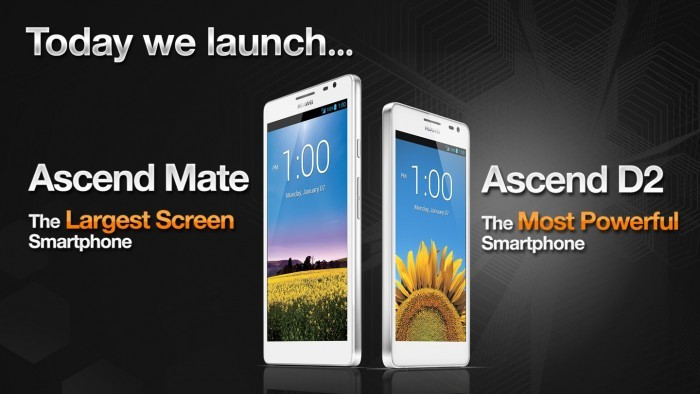 Huawei's bespoke Emotion user interface runs on top of Android Jelly Bean with the Ascend Mate, and the phone also features a one-handing typing function, whereby the virtual keyboard squeezes into fill only half of the screen should you prefer it to - a feature also seen on the plus-size Samsung Galaxy Note 2. The Ascend Mate has a metal, as opposed to plastic frame and, according to Yu, is built using "more advanced manufacturing technology than the iPhone."
The Ascend Mate also features Smart Reading technology which defines and translates highlighted words. It has dual Wi-Fi receivers and a Wi-Fi speed of 150 Mbps. Despite describing the screen as the largest in the world, and the Ascend Mate's 4050mAh battery being physically longer than any other phone battery, Richard Yu still referred to the phone's design as "compact" adding that "simple and easy to use is very good."
Ascend D2
The D2 is a smaller phone that also uses Emotion on top of Android 4.1. Despite its 5in screen, Huawei and Yu have called it the "most powerful smartphone". It has a 443 pixels-per-inch, 1080x1920 resolution screen, compared to the Galaxy S3's 306 PPI and the iPhone 5's 326's PPI, and a 13 megapixel camera. Most significantly, the D2 boasts an enormous battery life, 3000mAh compared to the S3's 2100mAh and the iPhone 5's 1440mAH, with Yu claiming that the phone can be used for 48 hours without needing to be recharged.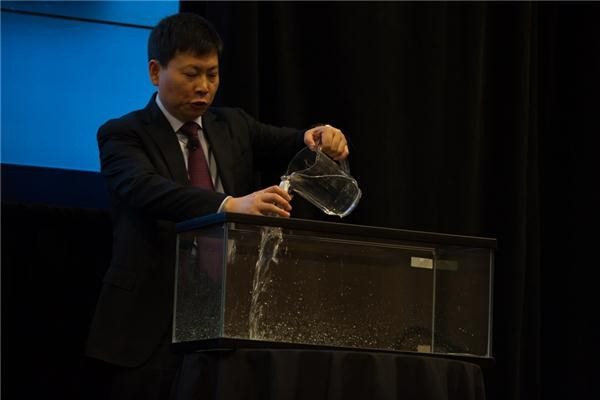 The D2 is also apparently very resistant to damage, with Richard Yu pouring an entire jug of water over it and purposefully dropping it hard on the floor to prove that it won't break. It also has long-range speaker phone capabilities, with Huawei claiming it can be used for clear two-way conversations via speakerphone up to a distance of 1.5 metres.
Despite taking questions from the audience, Yu revealed few details on the launch of the Ascend Mate and the D2. When asked about partnerships with North American service carriers, according to CNET, Yu explained that Huawei plans to sell both of these devices globally. In terms of release dates and pricing, he said that both of those things were still being discussed.