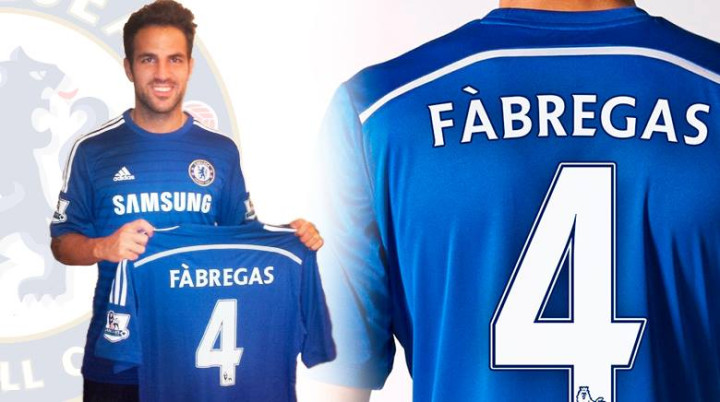 Cesc Fabregas should probably never have left England. At least not to move to a team with Xavi Hernandez, Andres Iniesta and Thiago Alcantara on their books. Even though he grow up in La Masia (Barcelona's youth academy) his direct style belongs more to the Premier League than La Liga. He reminds you more to Frank Lampard or the old Steven Gerrard than to the maestros of the passing game who impeded his progress in Catalonia.
Fabregas left Arsenal as a leader in the dressing room and a hero in the stands, to arrive at a club where he didn't even have a fixed place in the starting line-up. Many Barcelona supporters didn't even welcome him back; they didn't forgive him leaving La Masia for free when he was a kid, only to return eight years later at a cost of £30m.
His numbers on paper are indisputable - 42 goals and 57 assists in just 151 games - but his influence on the team-game was not as expected. Fabregas lived in the shadow of both Xavi and Iniesta and managers rarely let him prove his value in the midfield position from which he shaped countless games for Arsenal. Successive managers forced him to play as a 'false nine' where he often roamed fruitlessly, lost in the shadow of Lionel Messi.
Fabregas is evidenty not a striker and lacks the skills to be a consistent one. He is small, or at least not tall or strong enough to fight with grizzled centre-backs. He is slow, or at least not fast enough to dribble past defenders one against one. During his career, we remember many great goals from outside the area, coming from the midfield, and even some good headers, but no 'Messi style' magical solo run.
Now that Xavi is close to retirement, Fabregas could have eventually become a good replacement for him, despite the disparity in styles. However, after three difficult seasons in La Liga, both he and Barcelona have decided parting ways is the right choice for all parties.
It's also the right choice for Jose Mourinho. The Portuguese boss has secured the type of player he badly missed during his first year at Stamford Bridge, a midfielder to choreograph the counterattack and link defence with attack. At Porto he had Deco, during his first spell at Chelsea he had Lampard, at Inter Milan he had Wesley Sneijder and during his time at Real Madrid he had both Xabi Alonso and Mesut Ozil.
And now Mourinho can build a new side around his headline summer signing. Neither Lampard (too old), Ramires (not talented enough) nor Oscar (too diffident) were able to do that job during Mourinho's first year in west London, but Fabregas is. Mourinho needs him to build a European force and the Spaniard needs the Portuguese boss to feel a leader again, to feel like that midfielder who three seasons ago was the best Premier League player in his position.