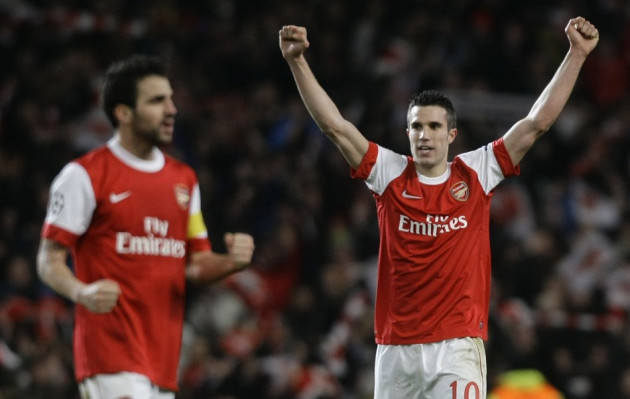 Cesc Fabregas has warned Arsenal they simply "cannot afford to lose" Robin van Persie but cautioned the club may be forced to sell if they fail to match the Dutch striker's ambition.
Van Persie assumed the Arsenal captaincy following Fabregas' summer transfer to Barcelona but the Spain international says his former club could struggle to keep the striker unless they tie him down to a new long-term contract.
"I don't know if they will keep him," Fabregas said over the weekend. "It is his decision. At his age, if he wants to move, it will be his last chance and if he wants to stay he will stay and retire at Arsenal.
"We will see what he decides but he's been very loyal to Arsenal for a few years. He is a key player, the fans love him. For me, he is the role model of Arsenal, the star player and they cannot afford to lose him.
"He is having amazing season and hopefully he will be fit for the whole season. Unfortunately, when I was there, he never enjoyed a whole season and it was one of the things I regret a little bit."
Van Persie's contractual deadlock has overshadowed the early season for Arsenal, with the captain having indicated he will not enter negotiations over a new deal until the summer, when he will have just 12 months left on his current contract.
Fabregas, meanwhile, believes that his return to Barcelona could not have got off to a better start. The midfielder has featured regularly for the European champions since joining in August and scored in each of his first four league games for the club.
"I know that some people thought I wouldn't get in the team," he said. "Maybe they didn't believe in me too much. Things are going very well. I'm smiling, scoring and playing. I'm with my friends every day. For me, it is like a dream at the moment.
"I'm playing more than I expected so I'm very happy. I want to win trophies and so far I've won two [the Spanish Super Cup and European Super Cup] and we go to the Intercontinental Cup in Japan [in December] and that would be a very nice thing to win as well.
"I speak to the boys at Arsenal. Arsenal gave me everything and I will never forget that. I will try to come and see people when we have a Christmas break in Spain. It will always be a special club."