Robot fans, take heart. The days of the giant robot mecha suits might soon be upon us as the Japanese inventor of a giant robot has accepted a fighting challenge from the US.
Suidobashi Heavy Industry's founder Kogoro Kurata has accepted the video challenge issued by US robotics firm MegaBots on 30 June to take part in a giant robot fighting duel.
"We can't let another country win this, giant robots are Japanese culture," Kurata said in a video response to MegaBot's challenge.
"So yeah, I'll fight. But my reaction? Come on guys, make it cooler. Just building something huge and sticking guns on it is... super American."
The Kuratas
Suidobashi Heavy Industry is a robotics firm founded by Japanese blacksmith Kogoro Kurata, who has been researching large wearable robots similar to those seen in sci-fi anime franchise Gundam and blockbuster film Pacific Rim since 2012.
Aided by Wataru Yoshizaki, a third-year doctoral student who developed V-Sido – a software operating system with advanced abilities to control the robot with, the duo were able to launch the Kuratas on Amazon Japan in January for the princely sum of ¥120,000,000 (£627,000, €882,000, $978,000).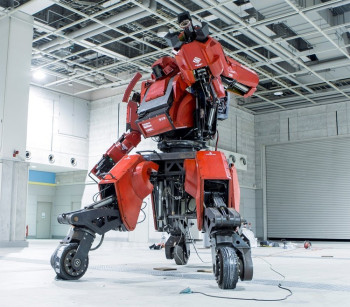 Although it is labelled as a "toy", the Kuratas robot stands 12.5ft (3.8m) tall, weighs five tonnes and has a top speed of 10kph.
It is designed to be manned by one person and features 30 hydraulic actuators and multiple onboard weapons systems, including a BB gatling gun that rattles off 6,000 rounds a minute and triggers when it detects the pilot smiling.
The Kuratas is still available to purchase on Amazon Japan, but there are now 147 reviews, including lots of humorous fake ones from Japanese people who very likely have not bought the product.
The MegaBots Mark 2
The video challenge was issued by MegaBots Inc, a US start-up that failed to get enough funding in a Kickstarter campaign launched in November 2014, but has now received funding from 3D modelling software firm Autodesk to create a full prototype, the MegaBots Mark 2.
The prototype stands 15ft tall, weighs six tonnes and has a top speed of 193kph (120 miles). It is designed to be manned by two people and comes with a paintball cannon, as well as another cannon that can shoot free T-shirts into a crowd of spectators.
The MegaBots Mark 2 beats the Kuratas in speed and weight but its founders admit they need more armour to protect them if they get shot at.
However, Kuratas is not keen on having an American-style gun slinging fight where the robots stand at a distance from each other.
"But you know, we really need Melee Combat [a fighting style where opponents are at a close range]. If we're gonna win this, I want to punch them and scrap and knock them down to do it," said Kuratas. "We accept. Megabots: Organise the duel. We'll be there."