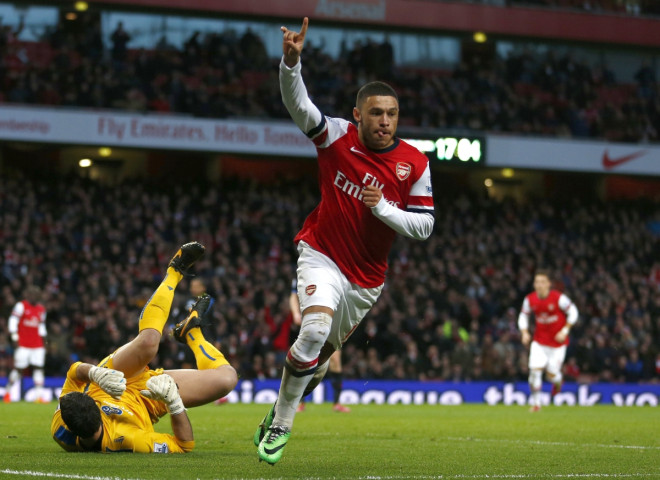 Arsenal midfielder Alex Oxlade-Chamberlain believes that Everton's full-backs pose a major threat when the Gunners visit the Goodison on Sunday in what is billed to be a decider for a place in the top four.
Seamus Coleman and Leighton Baines have been the best performers this season in the league from an attacking perspective, something which has been central to Everton's brilliant run over the past five games.
Everton are currently four points behind Arsenal, with a game in hand and a win this weekend will take them within a point's distance of the Gunners.
Romelu Lukaku and Kevin Mirallas have been in sparkling form this season and manager Roberto Martinez will be hoping that the rest of the team are up to the task, failing which will make the Gunners' lead insurmountable with only six games to go till the end of the season.
Chamberlain believes that it will be an extremely hard game for the Gunners and they should not be complacent after winning their FA Cup tie 4-1 at the Emirates in the quarter finals.
"Everton have got great players, and great attacking players especially so they are a real threat going forward," he told www.arsenal.com.
"Even their defensive players are a threat going forward, and both their full backs have massive attacking potential.
"We have played them twice this year, so we know what to expect, and it is going to be a hard game for us.
"Goodison Park is always a really hard place to to go to, but in the recent years since I've been at the club we've always done alright there so hopefully we can do the same again this time.
"I think 4-1 maybe didn't do Everton too much justice, they had a lot of chances themselves and played well for the majority of the game - as we did.
"It was a really good game, it just happened that towards the end of the match they were pushing to equalise and we managed to get two really good goals on the counter.
"To take a win like that into the next time you face them is always a positive. But we can't let that cloud our judgement on what to expect because it is going to be a really hard game for us," he concluded.