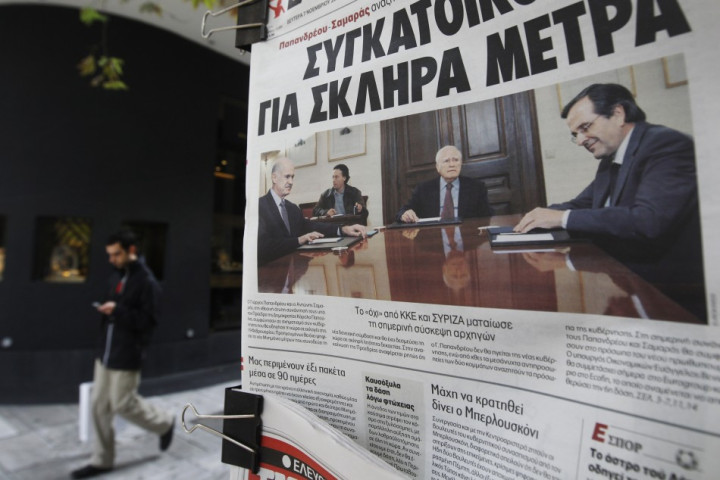 The Greek press has warned political parties that "today is the last chance" to end the political stalemate and appoint a new leader.
Having agreed Sunday to name an interim premier to run a unity government until elections in February, political leaders have so far failed to decide who they want at the helm.
The centre-left newspaper Ta Nea said: "They have to come up with a government strong enough to take the country out of the moving sand of political impasse that leaves us defenceless, at the mercy of the crisis. Time is up."
Although the former vice president of the European Central Bank, Lucas Papademos, emerged as the frontrunner Monday, nothing official was confirmed. According to a government spokesman, however, a new leader "will be elected today", but with this due to happen already and given the disorganised nature of politics in Athens, nothing can be said for sure.
The new "100-day" government, when finally appointed, will drive through legislation to accept the terms of the agreement made at the EU Summit on Oct. 27.
"A national unity government, right now," another daily newspaper, Ethnos, wrote on its front page. "The country and the society cannot endure anymore."
It is yet unclear how the unity government would be run, but it appears that the outspoken finance minister, Evangelos Venizelos, will hold onto to his role and will probably fight for leadership of the Pasok party when elections are held.
Almost thankfully for those charged with the role of confirming the new leader, the fiasco in Italy took most attention away from Greece. But with the clock ticking down on the country's finances pressure is still rife to enforce the bailout package to keep the country solvent until the new year.
Markets are rallying with hopes that Greece may finally enter a period of some sort of stability. The Dow rose 0.7 percent Monday while the Standard and Poor 500 index rose 0.6 percent.