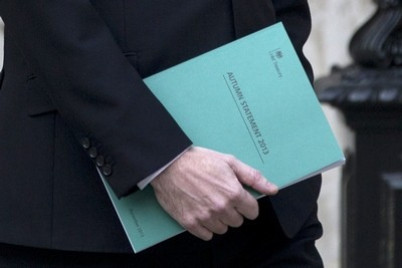 A stark warning that billions more pounds will have to be slashed from welfare spending for years to come has been sounded by chancellor George Osborne in evidence to a Commons committee on the Autumn Statement.
In occasionally testy exchanges with the Treasury committee, the chancellor rejected suggestions that he wanted to drive public spending down to 1948 levels, but admitted he wanted to shrink the overall size of the state.
He also spoke about the "quiet revolution" he wanted to lead over tax cuts, but rejected claims that he was fuelling a new housing bubble or that he believed unemployment was "a price worth paying" to boost productivity.
He refused to walk into a Labour trap when asked to say how much it cost to fill up the tank of an average family car, as he did not know, and quickly seized on an admission from Labour's George Mudie that Ed Miliband had failed to put forward specific economic policies of his own.
Osborne was facing the MPs after much of the debate over his Autumn Statement was overshadowed by the death of Nelson Mandela.
The annual event gave him the opportunity to announce that the penultimate pre-election budget would be on 19 March and to underline his austerity message. And, despite the cross-party nature of the event, it inevitably turned into a political row as Osborne was challenged over his programme.
Former minister Pat McFadden pointed out that the Office for Budget Responsibility had claimed that, thanks to Osborne's proposals, by 2018 state spending on services would fall to the same level as 1948.
Osborne rejected the claim, but said there was no doubt that whoever won the next election, the only way to avoid huge public spending cuts was to cut billions from welfare.
He did not confirm the the Institute for Fiscal Studies' prediction of £12bn cuts a year but said: "We are going to have to find billions more in welfare spending... to eliminate the deficit and invest in things like education and science.
"This is the hard choice," he said adding that, while he had been prepared to take such decisions, McFadden and his party had voted against every one of them. "But that does not make them wrong."
Whoever won the next election would have to make the same choices, he said.
And he seized on remarks from Labour's George Mudie who admitted it was "a valid thing to say" that the Opposition had failed to spell out specific economic policies.
Pressed over his vision on future taxation, Osborne spoke about a "quiet revolution" he was promoting within the Treasury, based on the principle that decreasing taxes ultimately brought it more income rather than always less.
It was better to leave people with more money in their pockets because they would usually spend it better than the government would, he said. It is a proposal that will delight Many on his own benches who were disappointed there were not more direct tax cuts in his autumn statement.
The session saw Labour's John Mann attempting to put Osborne on the spot over the cost of petrol, asking if he knew how much it cost now to fill the tank of a Vauxhall Astra compared to when he came into office. (It's £73, an increase of £5).
Unlike some before him, Osborne saw that one coming and admitted he did not have the figures in front of him so did not know. But it was less than it would have been under Labour, he added.
Mann displayed his frustration, declaring: "I know your colleagues say you are yearning for a Chinese style government but you are here to answer questions."
Committee chair, Tory Andrew Tyrie put Osborne on the spot over the threatened housing bubble, asking: "Why are you adding Vodka to the punch bowl just as the party gets going".
But the chancellor brushed it away insisting his help to buy schemes were not causing an issue and pointing out the OBR predicted that by 2018 house prices will be lower than in 2007.