Just one day after the first US cruise ship in nearly 40 years docks in Cuba, Chanel have raised the bar by taking over a full street in Havana for the brand's 2016/17 pre-collection show. For Karl Lagerfeld, no venue is too ostentatious or adventurous and while the likes of Seoul, Dubai and Singapore have made for some awe inspiring backdrops, nowhere will be more memorable than Havana.
Shipping in 600 guests to a country that has only recently relaxed its borders is no mean feat, but if anyone was going to accomplish it, only Karl Lagerfeld would succeed.
Having already been provided with a whistle-stop tour of Havana including a cigar factory and Earnest Hemingway's house, guests were transported to the show venue on El Paseo Del Prado in Havana in a fleet of highly polished, colourful vintage cars. synonymous with imagery of Cuba. From the moment guests arrived in Havana they were part of Chanel's Cuba that was glittering and luxurious.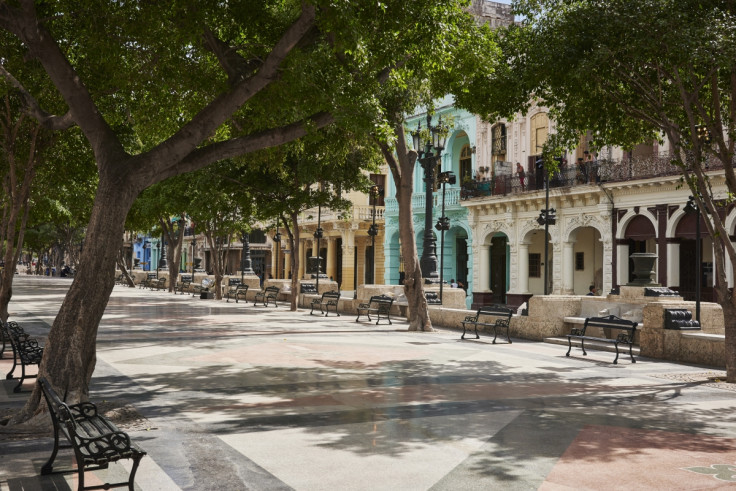 The picturesque tree lined street was designed by French landscape architect Jean-Claude Nicolas Forestier in 1928 with iron and marble benches and the bronze lions placed along the promenade. A rich and beautiful thoroughfare between central and old Havana, the street is flanked by pastel hued, if rather dilapidated, buildings, that made for a stark contrast to the opulent luxury that Chanel presented to their guests.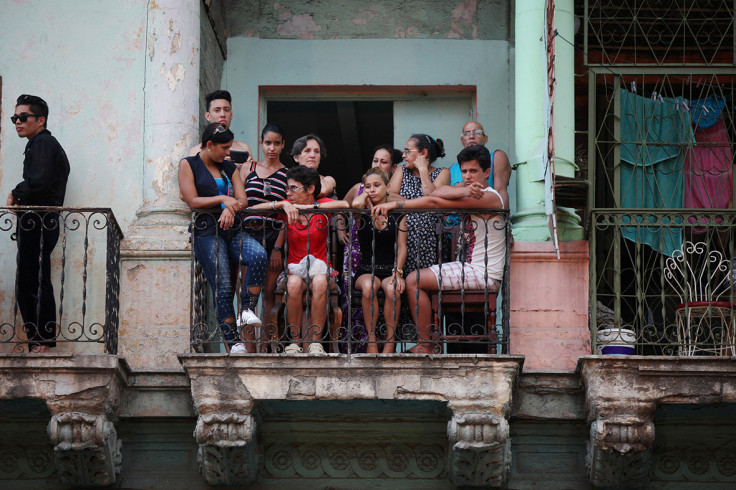 As Graham Greene said "Time gives poetry to a battlefield" and whilst the setting for the Cruise show was certainly poetic, but the absence of locals within the official seating plan was obvious, although the open air show certainly enabled anyone with a view of the 'Prado' to get a good look.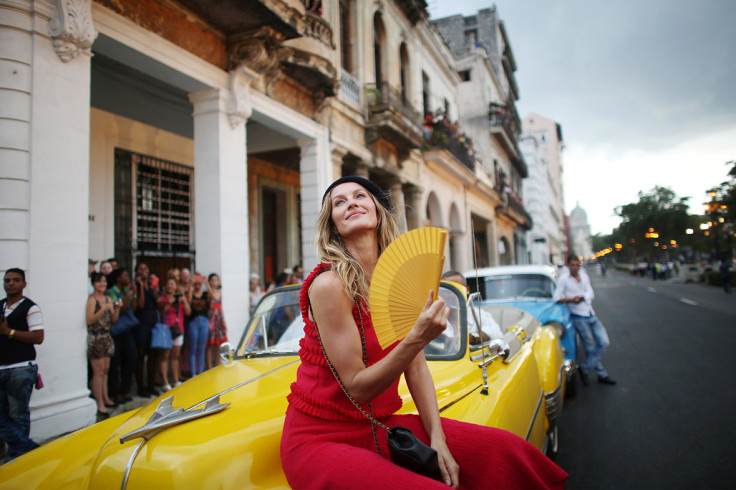 Among the 600 guests who did receive official invitations were ambassadresses Vanessa Paradis, Gisele Bündchen and Alice Dellal who joined the likes of Tilda Swinton and Caroline de Maigret to watch the show from the sidelines in the warm, Cuban evening air. Local guests included aspiring model and grandson of former president Fidel Castro, Antonio Castro, who despite rumours, did not walk in the show itself, Buena Vista Social Club singer Omara Portuondo as well as temporary local Vin Diesel who was in town to shoot the latest Fast And The Furious instalment.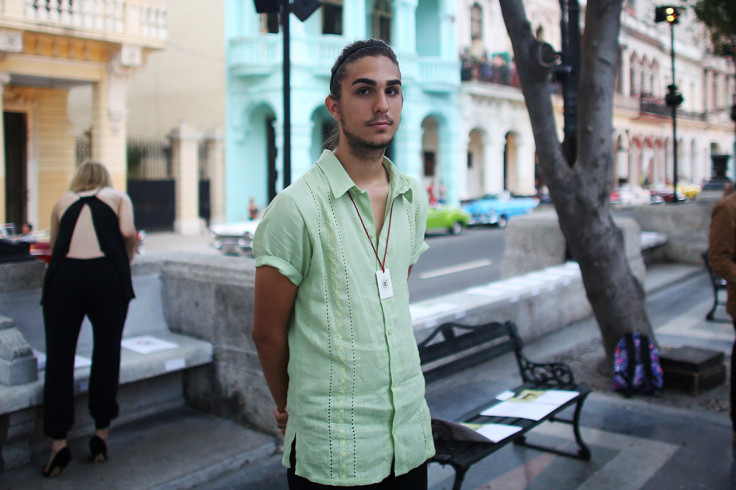 Opening the show was British favourite Stella Tennant, who stepped onto the newly appropriated 160m runway in loosely cut pinstripe suit trousers, wide open collared shirt and Panama hat, with a cigar box clutch dangling from her hand. The immediate homage to Cuba did not go unnoticed, although the show itself did not rely too heavily on the setting for sartorial inspiration. For the models themselves, Lagerfeld may have opened with his favourites, but also cast a number of local models to walk in the show as well.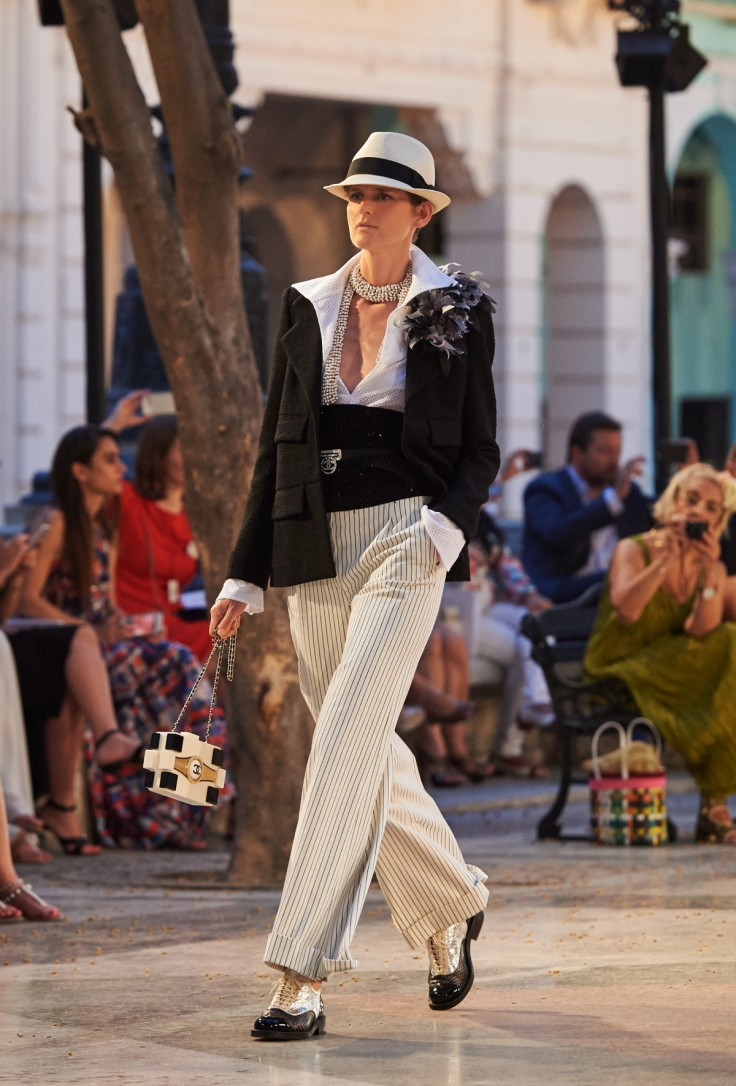 The collection blended monochromatic suiting with playful candy coloured blazers and deconstructed quilting with resembled summery raffia with cute retro printed tees, and looked like they were picked up on holiday (although a great deal more expensive).
The idea that Chanel were bringing a luxurious version of Havana to Cuba was not really the point as there is no place to sell such labels in the country where the average monthly salary is around $25 (£17.25). Still, the show was a friendly nod to the spirit of the city and a huge klaxon to signal the inevitable change that is already taking place in Cuba.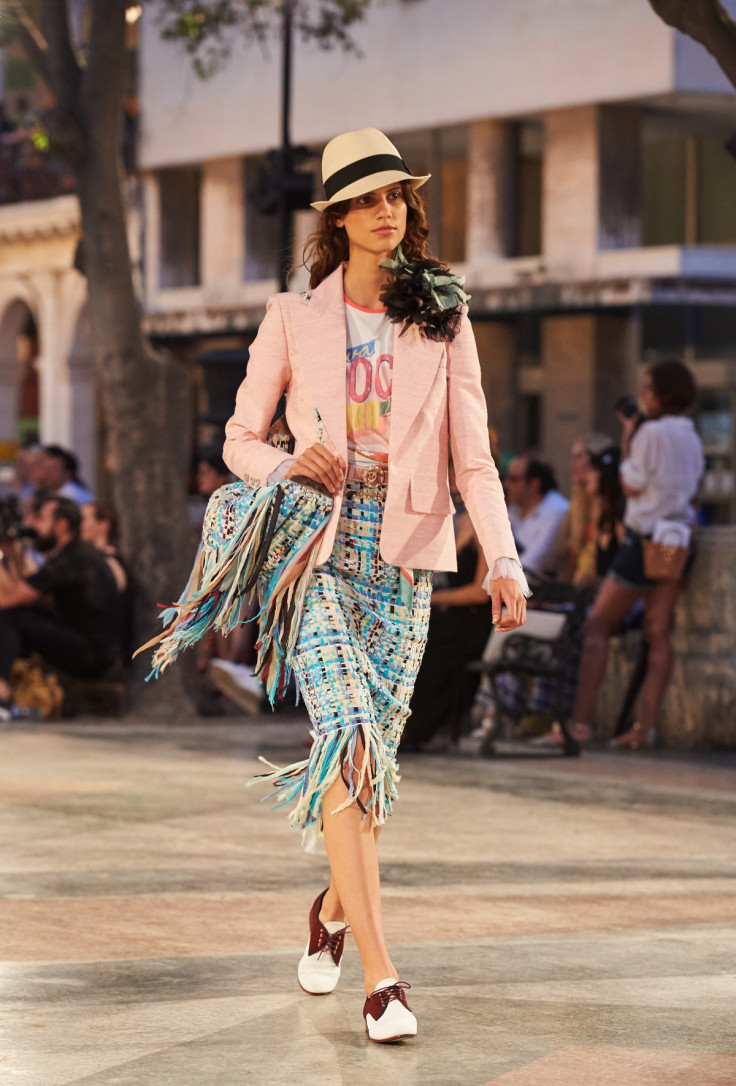 The men were seen strutting in the same original Panama hats by Maison Michel (Chanel's hat brand) but with loud, vintage print shirts and jackets adorned with colourful images of Buicks, Oldsmobiles and Cadillacs to carry on the car theme from start to finish.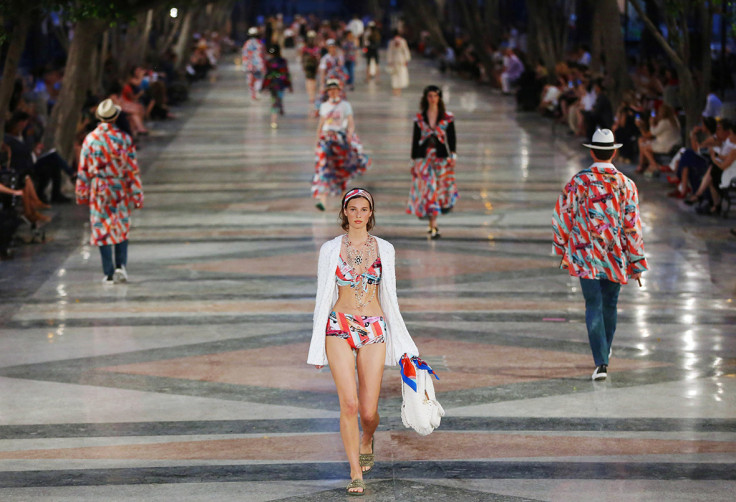 The palette of graphic, choppy mixes of colour were not dissimilar to that seen in Seoul last year, but the overall vibe was far more relaxed with the heat of the city communicated in the clothing. Simple shift dresses and pleated skirts were given a vintage update in classic lemons and blush tones with opulent lace trims.
One of the most luxurious updates was the Chanel take on the Che Guevara beret, that was adorned in sequins and had a neat interlocking 'C' pin fastened to it. The revolutionary style as seen through the eyes of the Parisian couture house.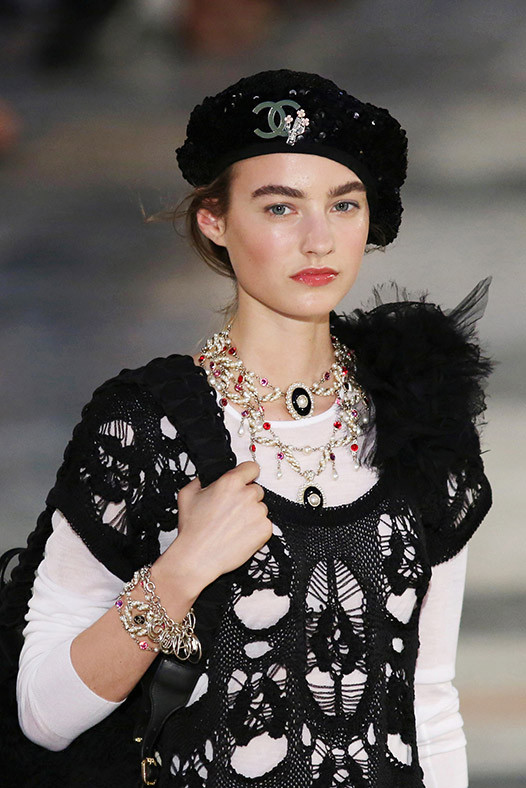 As ever, the show closed with a runway party as the army of models took to the runway together, with Lagerfeld taking his bow alongside his godson Hudson Kroenig. Guests then headed to the Plaza de la Catedral in Havana Old Town, an 18th-century Latin American church in front of San Cristobal for a night of Cuban dancing and no doubt a few Cohibas.
While the fashion itself was not groundbreaking, as ever Lagerfeld presented a beautiful and vast collection in a setting that will remain a historic occasion long after the Cruise season has passed.