It is already five years since the royal wedding that swept Kate Middleton into the Royal family as she transformed into the Duchess of Cambridge with her husband Prince William, the Duke of Cambridge.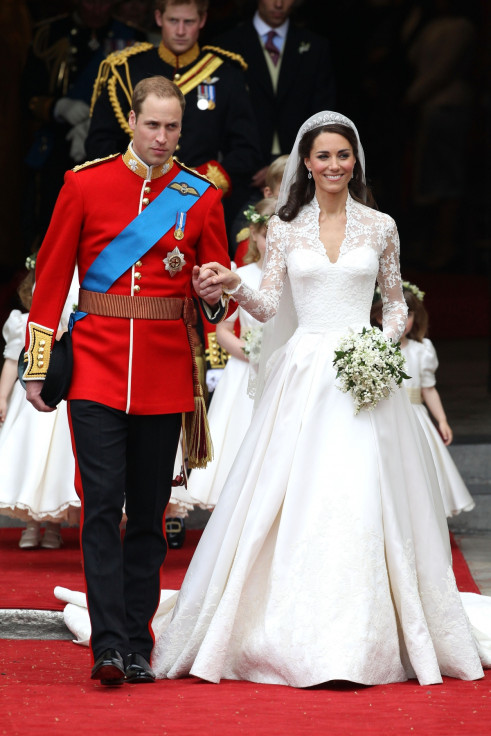 Whilst many will remember the occasion for the extra day off and many street celebrations, all eyes were on her bridal dress. Treated with the highest levels of secrecy, Alexander McQueen designer Sarah Burton led a clandestine existence prior to the day, ensuring that no one caught a glimpse of the incredible lace, beaded traditional design she had designed. It however wowed the nation and the world's media on April 29, 2011. The dress, rumoured to have cost up to £250,000 was a true labour of love in white satin gazar with two dozen Royal School of Needlework seamstresses working on the hand-stitched lace appliqué for six months.
As with all weddings, and celebrity nuptials in particular, the dress is the real event. In celebration of Kate's fifth wedding anniversary we took a look back at some of the most memorable celebrity wedding gowns.
Queen Elizabeth II wore a lace design by Sir Norman Hartnell at her wedding to Prince Philip on 20 November 1947 which she had to save her clothing stamps for as rationing was still very much enforced in Britain at the time.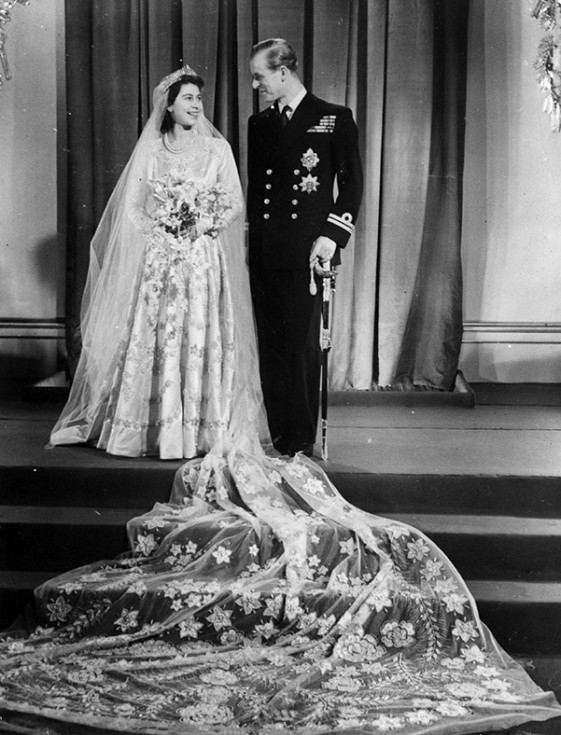 Jerry Hall went for a pale blue Vivienne Westwood number for her wedding at St Brides, Fleet Street with her new husband Rupert Murdoch on March 5, 2016.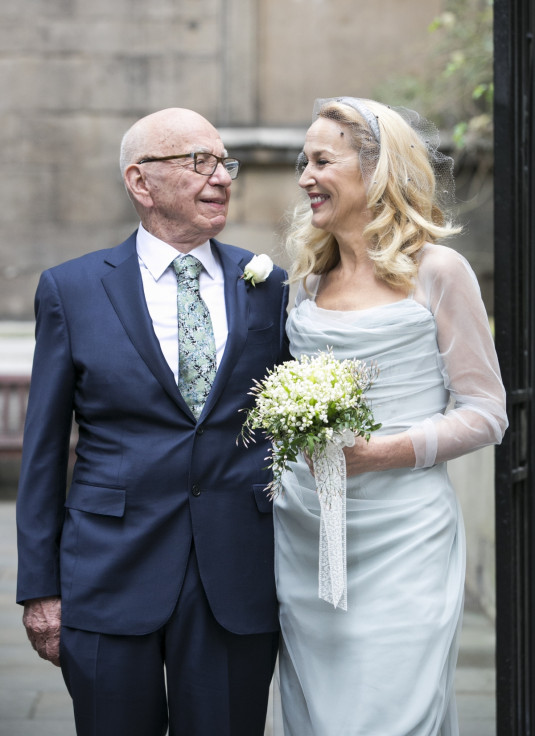 Poppy Delevingne wore Chanel haute couture at St. Pauls Church in Knighstbridge at her wedding to James Cook on May 16, 2014.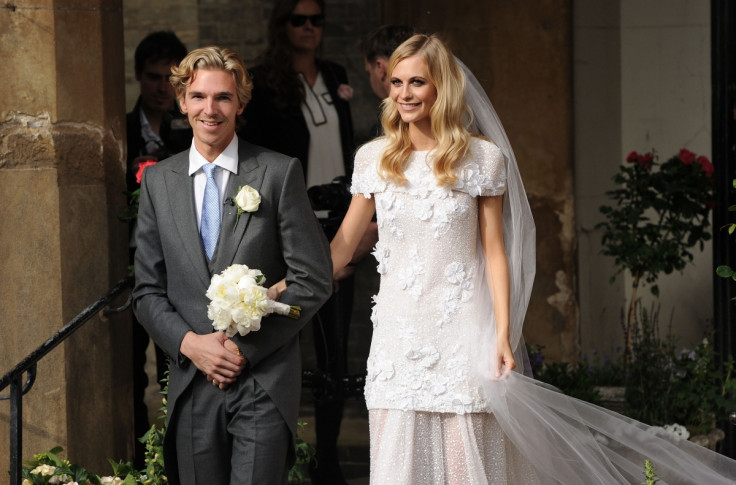 Kim Kardashian wore Givenchy couture by Ricardo Tisci at her star-studded wedding to rapper Kanye West, May 24, 2014.
Singer Solange Knowles wore an incredible Stéphane Rolland cream jumpsuit with plunging neckline as one of her six bridal outfits at her wedding to video director Alan Ferguson in November, 2014,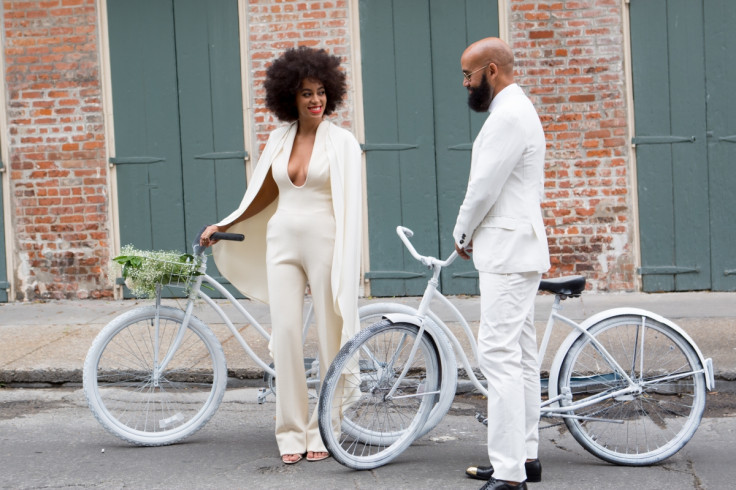 Elizabeth Taylor wore a canary yellow empire line dress and floral crown for her first wedding to Richard Burton in March 1964. the ceremony. Burton later presented the actress with a platinum-set Bulgari pendant featuring a 18.61 carat emerald surrounded by diamonds. It was designed so it could be detached and worn as a brooch. The couple would divorce and re-marry in 1975, only 16 months after their divorce was finalised.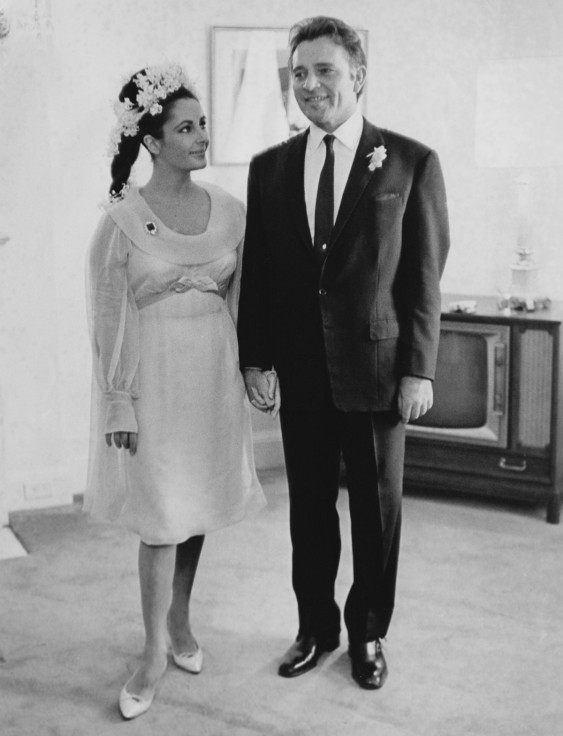 Chrissy Teigen Instagrammed a picture of her relaxing in her voluminous Vera Wang gown during her wedding to singer John Legend at Lake Como in February, 2014.
Singer Gwen Stefani opted for a more unconventional design at her wedding to Gavin Rossdale as she stepped out in an degradé pink silk gown by John Galliano in September 14, 2002 at St Paul's Cathedral in Covent Garden.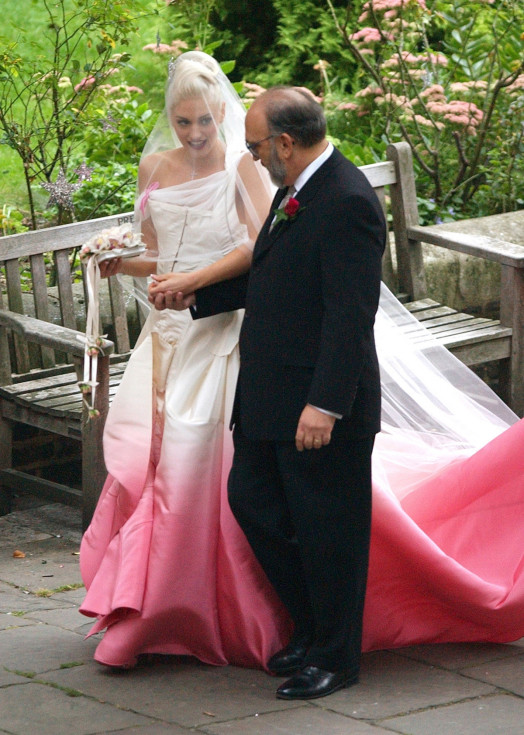 Grace Kelly's beautiful lace gown by MGM Studios costume designer Helen Rose has often been cited as the inspiration for Kate Middleton's gown. Kelly wore the design at her wedding to Prince Rainier of Monaco on April 19, 1956. Making the most of the end of rationing Kelly's dress included 100 yards of silk net, 125-year-old Brussels rose point lace and thousands of seed pearls.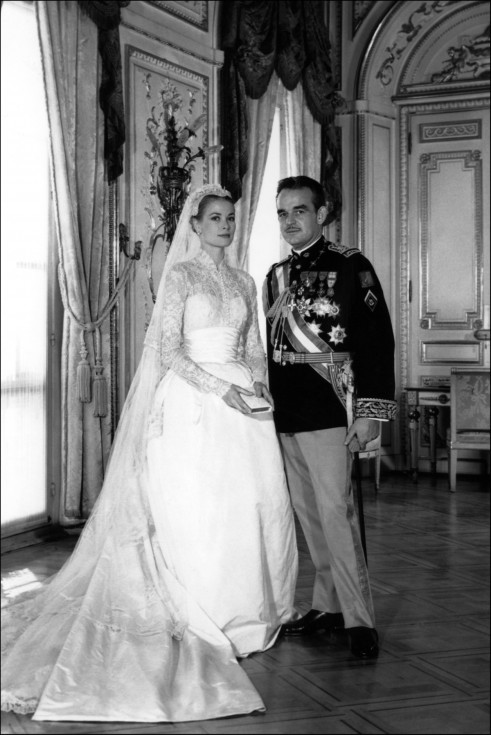 English writer The Hon Nancy Mitford, the original It girl, wore a ruffled silk, sleek gown at her wedding to The Hon Peter Rodd at St John's Church, Smith Square, London on 4th December 1933.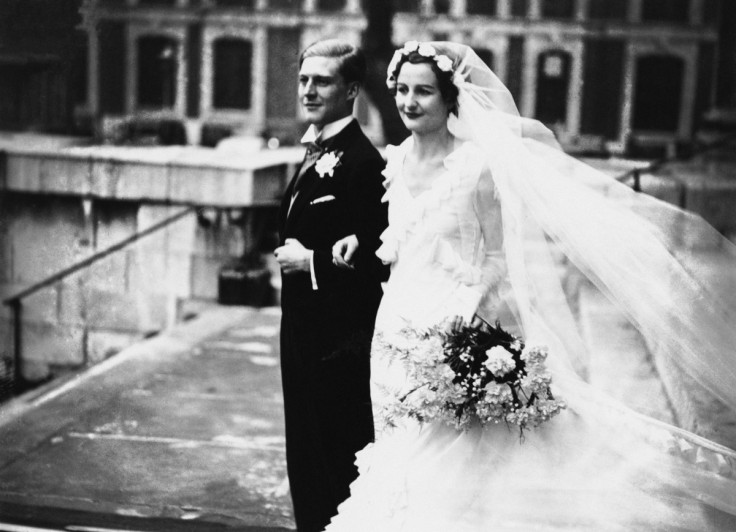 Like Gwen Stefani before her, Kate Moss called on the expertise of John Galliano to design her twenties-inspired beaded gown for her wedding to The Kills' guitarist Jamie Hince on July 1, 2011 in Southrop, England.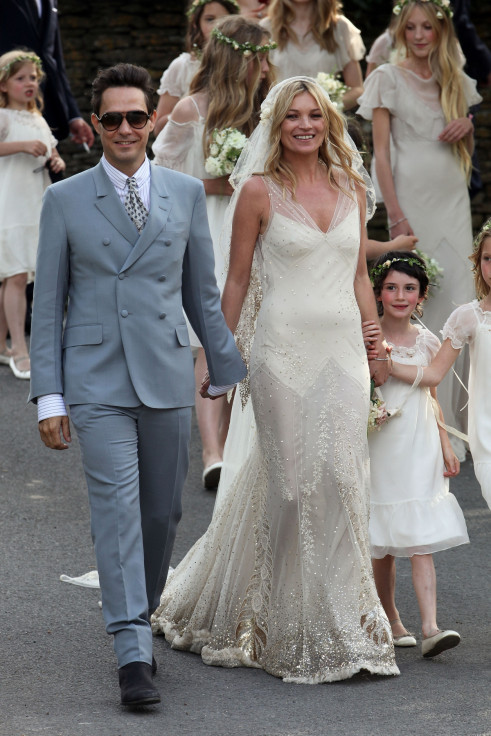 The wedding of Diana Spencer and Prince Charles was by no means a small affair and the voluminous dress designed by David and Elizabeth Emanuel was the pinnacle in billowing ivory silk taffeta and antique lace which was valued at the time for £9000.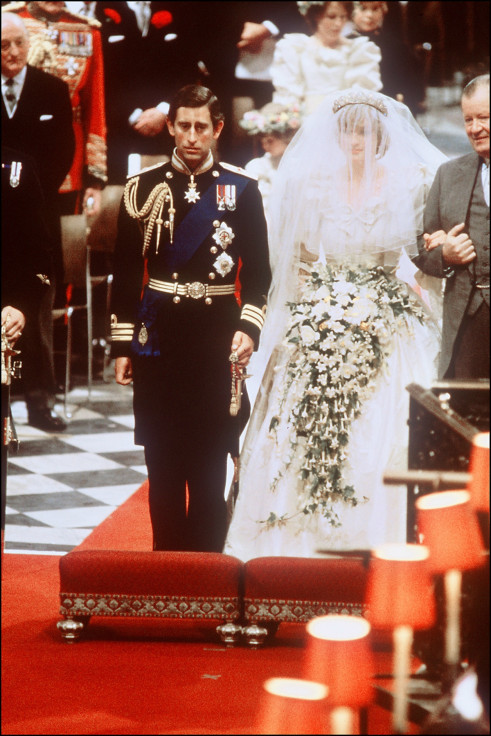 John Lennon and Yoko Ono were never going to have a traditional wedding, but it was white. The pair were both dressed in head-to-toe white for their wedding in Gibraltar on 20th March 1969. White knee-high socks, a wool mini-dress and white sun hat made for the perfect alternative bridal look.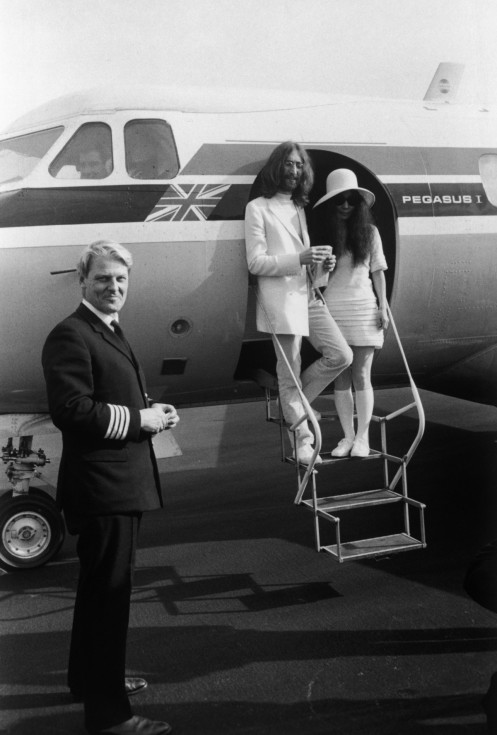 Another Beatles' bride to eschew the traditional dress code was Linda McCartney who wore a daffodil-yellow coat over a fawn dress when she married singer Paul McCartney, who sported a matching yellow tie at Marylebone registry office March 12, 1969.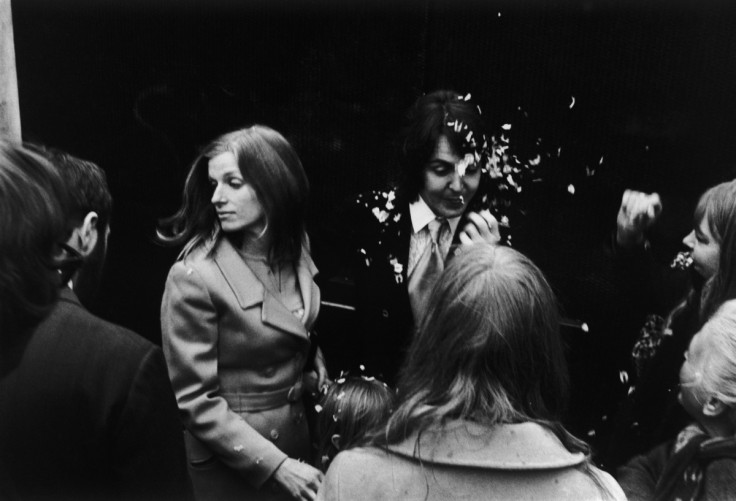 Camilla Parker Bowles opted for a subtle outfit for her wedding to Prince Charles on 9 April 2005 at Windsor Guildhall. Being the second marriage for both of them it was a far more muted occasion than Charles' first nuptials. Camilla opted for a cream silk and matching oyster silk basket weave coat by Anna Valentine with shoes by L.K.Bennett and a Philip Treacy wide-brimmed cream-coloured straw hat. The look was finished off with a purse by the Queen's favourite handbag deisgner Launer.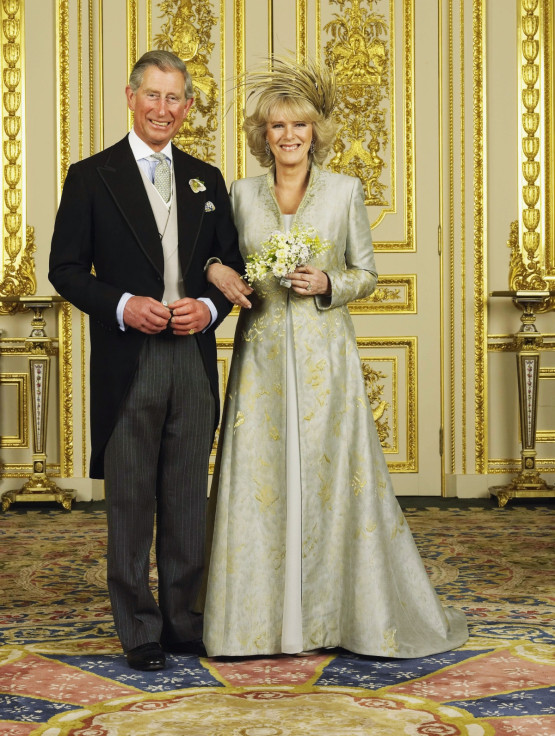 Jackie Bouvier was the picture of perfection at her wedding to John F Kennedy at his Hammersmith Farm on Rhode Island in 1953. Wearing a beautiful fitted bodice and full skirt in silk taffeta with wax flower embellishment, the new Mrs Kennedy became an instant fashion icon. The dress was designed by New York designer Ann Lowe.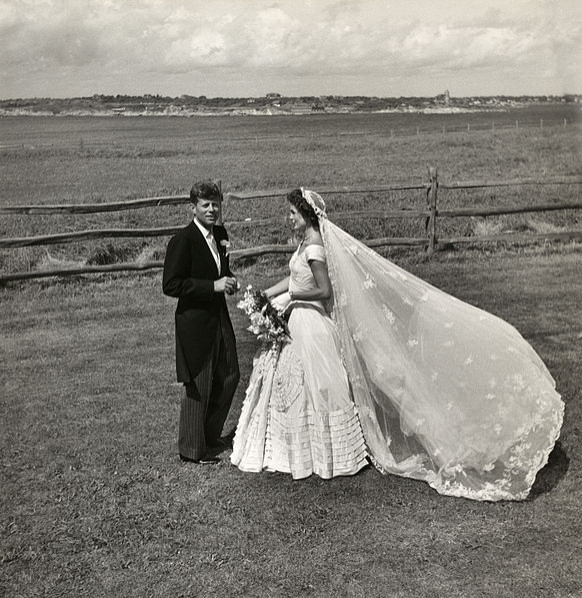 One of the most memorable rock and roll weddings has to be Mick Jagger's marriage to tuxedo-wearing trend setter Bianca Jagger, neé Pérez-Mora Macias. Another bride to eschew tradition, Bianca wore a Le Smoking tuxedo jacket by Yves Saint Laurent with a midi-length white skirt and mules with an oversized veiled hat for their wedding on 12 May 1971.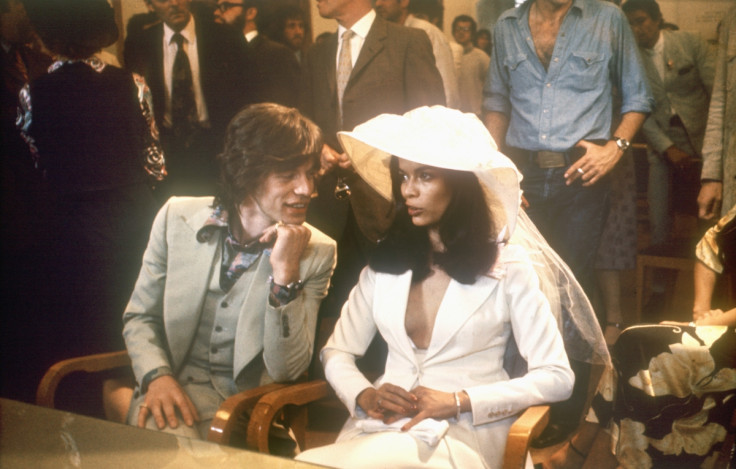 Mia Farrow raised eyebrows when she married singer Frank Sinatra when she was only 21 and SInatra was 50 on July 19, 1966. Farrow opted for truly pared back sixties style in a neat skirt suit with gold buttons wearing her signature cropped hair.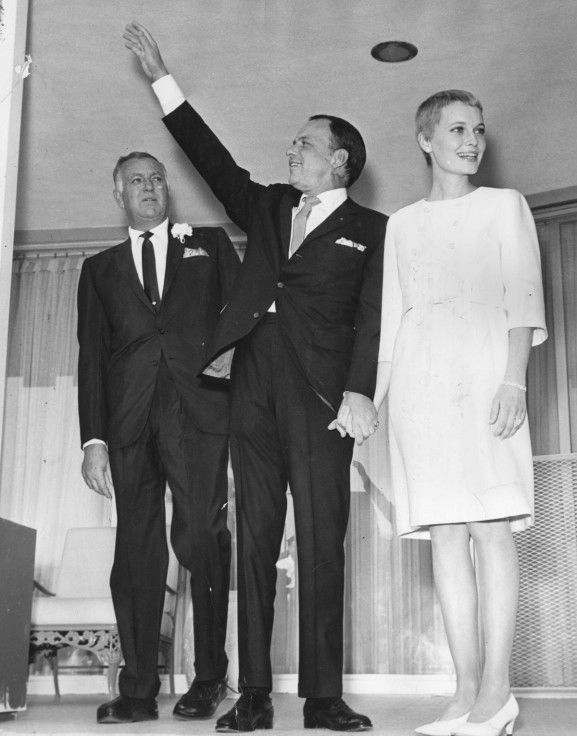 Rita Hayworth's wedding may not be everyone's most memorable but her dress style has certainly never been forgotten. The actress wore an incredible dress with a plunging neckline, gathered down with long sleeves for her wedding to Prince Aly Khan on 27th May 1949.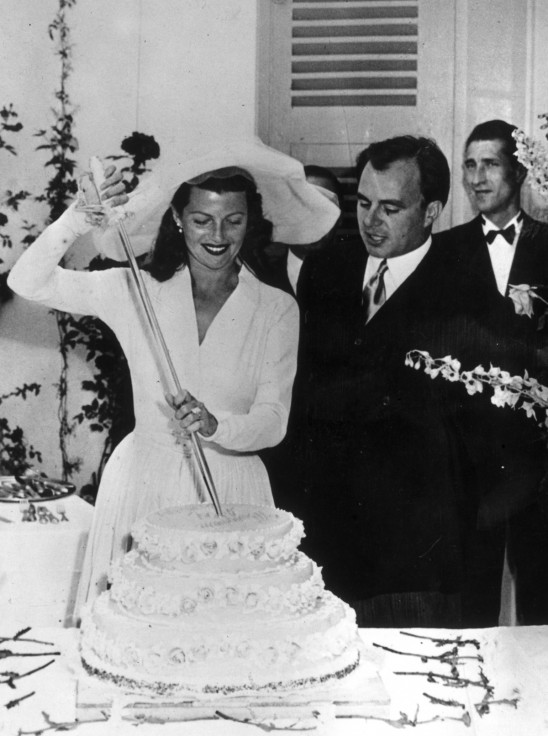 Elizabeth Taylor went to MGM costume designer Helen Rose, just like Grace Kelly, for her first wedding to Conrad 'Nicky' Hilton Jnr in 1950. The silk and lace full skirt design was far more traditional compared to the canary yellow mini-dress she wore for her first wedding to Burton in 1964.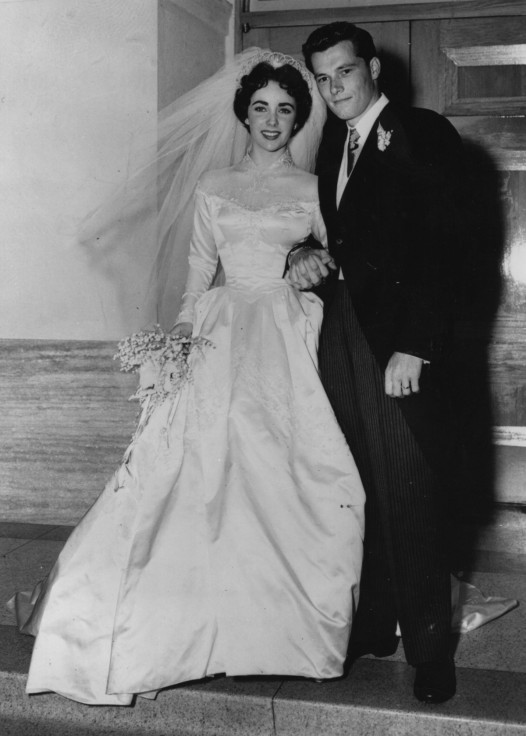 This group wedding of Richard Cole, road manager for the rock band Led Zeppelin who wed Tracy Heron-Weeber and Simon Kirke, drummer for the band Bad Company who married Desiree Serino was pure 1970s. The laid-back shirt dresses, patent leather boots and cute headpieces donned by the brides along with fashionable guests at a pub in Fulham, London on September 16, 1978 is just wonderful. The guests included the likes of John Paul Jones, Paul Rodgers, Jimmy Page and Robert Plant.