There are 42 Spaniards plying their trade in England's professional divisions. In the equivalent leagues in Spain, just one Englishman can be found.
He is Charlie I'Anson and his decision to chance his luck in Spain after leaving Grimsby Town saw him rewarded with his La Liga debut with Elche last season. Having since joined Real Oviedo on loan until the end of this term, in their quest to haul their way back to the top flight after their recent brush with the abyss, it is fair to say he has taken the road far less travelled in attempts to carve a football career for himself.
I'Anson, or Charlie as he has become known as in Spain, left English football in 2012. It was hardly a culture shock for the Luton-born centre-half, though. He moved to Malaga at the age of seven with his parents and it was only when Nottingham Forest approached him did he return to the UK at the age of 16.
A permanent offer from Forest never materialised but a move to Grimsby Town was soon on the cards and he signed his first professional contract with the club in 2011. The following year, he was offered a new two-year deal by the club but could not agree terms. While he had the opportunity to remain in England, Charlie returned to the country he had spent almost half his life in, not knowing what the future held.
"You never know with football," I'Anson told IBTimes UK. "I had a two-year deal in England on offer and a chance to secure my football with Grimsby but I made my decision [to return to Spain] and it worked out well. It could have gone wrong. Had it, I would have kept working. Nothing would have changed."
Football education spanning two countries
Still speaking with a London twang to his accent despite being fluent in Spanish since the age of eight, Charlie still recognises the merits of having gained his football education in two different countries.
He said: "What I had learned and experienced in England is something I wanted to try and bring back to Spain, to try and mix my game up a little bit and get a bit of both to help my career in the long term.
"When you are younger in Spain, you play on artificial pitches. In England, it's grass, sometimes long grass depending where you are. Little things like that make the difference. Other things like living away from your family and getting up in the morning and having to get on the bus to go to training like when I was at Grimsby, it's all different, but it's your job.
"I've always learned both ways of the game. I've been with managers who don't particularly play a lot of football in training and those that do, but it's all guidance I've used in my career."
Brits abroad? Still a minor affair when it comes to football
I'Anson's career path is a pertinent reminder that movement between England and the rest of Europe in the search of football works both ways.
A quick headcount across the continent reveals the low number of British players who have taken the plunge of straying away from the British Isles. Goalkeepers Luke Steele and Matt Jones have found their top-flight status in Greece and Portugal respectively with Panathinaikos and Belenenses.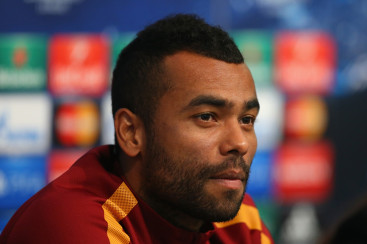 Scottish prodigy Ryan Gauld took the admirable step of joining Sporting Lisbon's ranks after outgrowing Dundee United. Chelsea midfielder Josh McEachran has swapped west London for Vitesse Arnhem in the Netherlands for a season, while Ashley Cole and Micah Richards are perhaps the most prominent two examples at Roma and Fiorentina, with Ravel Morrison to join that fraternity when he joins Lazio in the summer.
Having swapped countries and dropped down two tiers to Spain's Segunda B in the space of three years, I'Anson is fully aware of the demands waiting in new territories, particularly for players at a young age. But the defender has taken each challenge on in bullish fashion and insists others in similar positions should not be afraid of taking the same approach.
"One of the big things that people say [when faced with the prospect of playing abroad] is the language, but I don't know about that," I'Anson said. "If you really want to dedicate to football and be a footballer, the language doesn't matter, you will learn that in a year. Especially with all the help you get from the clubs at every level, you can get teachers, and even though you abroad there are players who do speak English and make life a bit easier for you."
A leap of faith to swap countries
But I'Anson does resonate with his fellow players who may feel reluctant over taking the leap.
He said: "It's hard for some players, they come straight out of academies, where, if you have been at a big club, you get everything. You're living a professional life even though you are not at that level yet. You get looked after so well and you start to think you have made it sometimes and you haven't.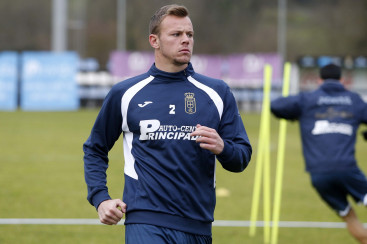 "It's a big shame because if and when they are released they think they are not good enough to play football and in my opinion that's wrong. If you've been there, you've been there for a reason, you have something. You have ability, you just have to try."
When Elche were fed an opening game of the season against Barcelona in August 2014, I'Anson could begin to relish the challenge of contending with Lionel Messi and Neymar at the Nou Camp, a far cry from the tussles he experienced as a Mariners defender in the lower echelons of the English game.
Things would not transpire that way, though. While regarded as a future first teamer at the Estadio Manuel Martinez Valero, he joined Segunda side Alarcon before the season had even begun. After appearing sparingly for the Madrid side in Spain's second tier, a move down another level beckoned in January.
A new challenge to endure
The latest step in his career took him to Oviedo, who were almost completely undone by financial despair and political strife, which reached breaking point in 2012. Their tale of how the world united to save one of Spain's oldest clubs was one of the most remarkable stories of 2013, as fans from over 60 countries, former players including Santi Cazorla and Juan Mata and the world's richest man, Mexican telecommunications tycoon Carlos Slim, came together to rescue the club from liquidation.
With a worldwide fan base, a stadium that holds over 30,000 and a ranking of 17<sup>th in La Liga's all-time league table, Oviedo's resurrection has been tipped to continue, with I'Anson hoping to contribute during his stay.
He said: "I been here for over a month now, it is a massive club and I've got to start knuckling down, they are top of the league and I am here to help make sure they are promoted [to Spain's Segunda division].
"They are a club with good players, good fans and are a club that shouldn't be where they currently are. There is a bit more pressure here given what the club has been through, but I think as a footballer that is what you need. Instead of going to a club that isn't fighting for anything or hasn't got the ambition for anything, you want to be at a club who want to go places."
Just five years into his young career, I'Anson has certainly been places. But his mantra has remained strikingly the same and acts as a message to other players who might be hesitant of taking the leap he took.
He said: "A player has to think if they really want to take football on as a job because it's always going to be hard. But football is a big world and you have to be happy with what you get out of it."