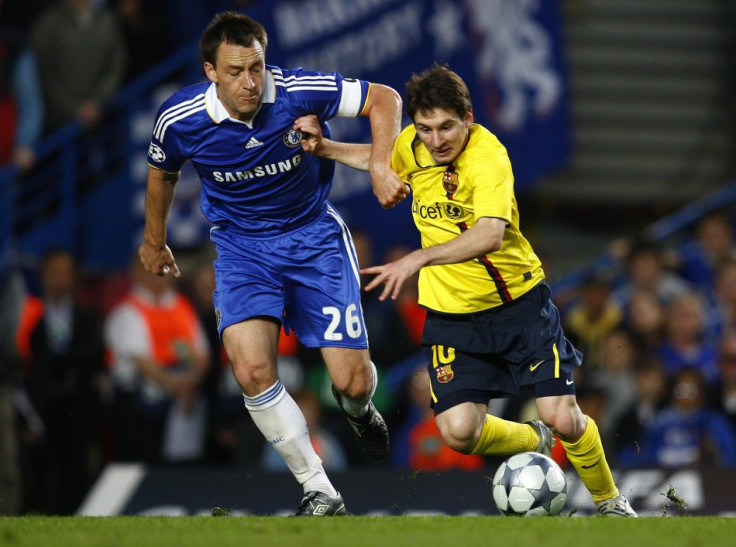 Barcelona's Argentine wizard Lionel Messi has ruled out a future transfer to the Premier League. However, the 24 year old star has admitted he is an admirer of the English league.
Messi went level with Real Madrid's own wizard, Portuguese winger Cristiano Ronaldo and his record of 41 league goals for the season when he scored a brace in his club's 2-1 win over Levante on Saturday, as Barcelona continue chasing the treble. In the aftermath of that game, the two-time Ballon d'Or winner has now revealed he will never leave the Catalan club.
"I have never thought about life beyond Barcelona. My heart belongs to the club and I can never see the day arrive when I want to leave," The Sun quoted the Argentine as saying.
"It has always been my intention to stay here since the very first day I arrived and nothing has convinced me to change my mind. I accept you never know what can happen in the future but if it's my decision and my decision alone then I would be happy to finish my playing career at the club," Messi added.
The Argentine will be in London this week, as the Catalans travel to Stamford Bridge to take on Chelsea in the first leg of their Champions league semi-final tie. The match will be played on Wednesday evening.
"The Premier League is immensely exciting and when I get the opportunity I love to watch it on television. It's very competitive and played at a phenomenal speed. They play with their heart, with plenty of emotion, spirit and determination. And the supporters are enthusiastic, passionate and very fair. But I could never see the day arrive when I would play in England. It's hard to look beyond my own club and it's not something I have ever thought about or considered," the forward added.
Messi, in addition, recently became the all-time leading goal scorer in his club's history. However, the youngster has cautioned his team mates against considering Chelsea easy opposition.
"There are no easy games when you reach the knockout stage. Our opponents are there on merit and we do not take any threat likely. There is no room for complacency or presumption. Chelsea are playing without expectations or pressure in some respects because everyone expects Barcelona to win. But they have vast experience and we will treat them with the utmost respect. Games in the past have been very close, there was not much in them," the Argentine added.
Messi, who is enjoying his best ever season at Barcelona - with 63 goals and 25 assists from 52 games in all competitions so far - will be looking to add to his tally against the Blues.
Meanwhile, Barcelona are considered favourites to reach the Champions League final and defend their title. The final is set to be held at the Allianz Arena on 19 May. The Allianz Arena is the home stadium of German Bundesliga giants Bayern Munich, who will contest the second semi-final of the tournament against Barcelona's league rivals Real Madrid.