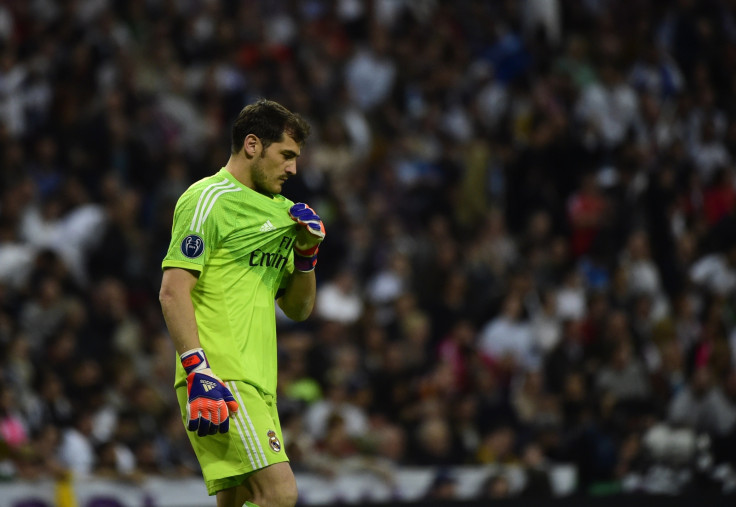 Chelsea midfielder Cesc Fabregas has warned Iker Casillas that leaving Real Madrid in the summer would be extremely difficult for the Spaniard, given he has spent his whole career at one of the biggest clubs in the world.
The 33-year-old has been linked with a move away from the Santiago Bernabeu, having been subjected to criticism from the media and fans alike over the past couple of seasons. Madrid are also reportedly looking to bring David de Gea to Spain as a replacement for the World Cup winner, with the Manchester United 'keeper doing exceedingly well at Old Trafford this term.
De Gea, whose contract expires this next season, has made it into the PFA team of the year and is likely to usurp Casillas from his starting position if he decides to end his allegiance with the Premier League giants.
The Real Madrid goalkeeper has been linked with a move to Arsenal, where he will get more game time, especially with manager Arsene Wenger in the market for a new number one, having reportedly been unimpressed by the performances of Wojciech Szczesny and David Ospina this season.
However, Fabregas, who moved to England at a very young age to play for Arsenal, is not convinced Casillas will be able to make the adjustment and warns him to consider all his options before taking a step.
"I have defended Iker many times. And deservedly so because I feel really sorry for him. If I have to, I will again without hesitation," Fabregas said. "He is a great captain, a great person, a great friend and a great footballer. There isn't much else to say, just look everything he has done for the national team and Real Madrid.
"He is a legend at Madrid, he has been there forever. A move would be a very difficult step for him. I was younger when I moved to England, so it was different.
"Madrid and Barcelona are worldwide and the biggest clubs in the world in all senses. Taking a step into another league or another team is difficult. There are times in life that change is good and others that it is not. He has to decide what is best for him."