Liverpool faced the ignominy of providing newly crowned Premier League Champions, Chelsea, a guard of honour before kick off on Sunday. To their credit, they did it. It must have been humiliating.
Many disgruntled supporters beforehand believed that the idea of a 'guard of honour' was just another vainglorious, stage-managed stunt by the inventors of football – Sky Sports.
Understandably, Liverpool supporters (and no doubt some of the players) felt it had as much to do with football as the ridiculous pre-match handshakes beloved by the game's ruling bodies in their endless pursuit of friendship and respect in football. Most football people prefer handshakes after battle, not before.
Many of course may not realise that the 'guard of honour' is in fact, a tradition that pre-dates Sky Sport's hijacking of football by many decades. Chelsea was afforded a guard of honour by Man Utd after winning the Football League Division 1 in 1955. That Man United team was the Busby Babes – one of the most loved and famous of all football teams. They didn't seem to mind giving a guard of honour, but then that was the Fifties, a different, more polite and gentile time perhaps.
Chelsea in turn provided a guard of honour for the Liverpool team at Anfield in 1966 in honour of them becoming Champions under the revered Bill Shankly. Anfield witnessed probably the most unparalleled mark of respect for champions in 1969, when Leeds United clinched the title in a 0-0 draw against Liverpool.
At the end of the match the entire Leeds team, led by Billy Bremner, marched towards the Kop. Silence fell amongst the heaving crowd. The silence was broken by the Kop singing 'champions' repeatedly in honour of the Leeds team. This mutual respect went on for a quarter of an hour. It was a mark of respect for a team that had proved over a long and arduous season that they were the best. It was then and it is now.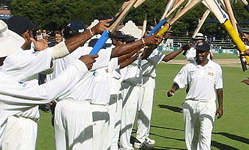 It's a shame, then, that Steven Gerrard chose to forget both the history of his club and its supporters by whining about having to do the guard of honour in his post-match interview.
Shame also that he chose to pander to his own supporters rather than acknowledge a genuine mark of respect shown to him by most of the Chelsea supporters at Stamford Bridge when they applauded him off the field on his last appearance at the ground.
The guard of honour and applauding a great opposition player seems to have split rival supporters and social media down the middle.
Farewell dear enemy
I can understand Chelsea supporters who wouldn't applaud Gerrard. After all, Gerrard and Liverpool have very much been the enemy over the last 10 years in an arena George Orwell accurately compared to "war without the bullets". Football is about tribalism, enmity, hostility towards your rivals. It can also be about bitterness and envy, and let us not forget the fact that Gerrard spurned Chelsea back in 2005, not to mention the media love-in for the player, something which most Chelsea supporters find bewildering at best.
But if you can't applaud a genuinely great footballer as he leaves the stage for the last time when you have enjoyed spending many occasions humiliating him and have just won the title, then when can you? Magnanimity is the within the gift of champions, and I think Chelsea supporters showed a genuine mark of respect for a great player and as Jose Mourinho called him, a 'dear enemy'.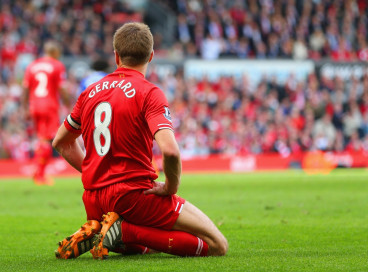 Gerrard will be missed, and Chelsea supporters should always be grateful for his headed goal in the Carling Cup Final in 2005, his back pass to Drogba in 2010 and of course the infamous slip last season which let in Demba Ba to score.
In many respects it could be argued that Chelsea supporters got the balance right by twisting the knife with the plethora of songs aimed at Gerrard for the whole game, but still affording him a standing ovation when he left the field of play, a moment he acknowledged by applauding all four corners of the ground. Perhaps he should be grateful that the Chelsea board didn't present him with a silver cigarette case like they did Sir Bobby Charlton back in 1973.
The common consensus from those not frothing at the mouth about such apparent disloyalty is that Chelsea supporters showed some class on Sunday. Oh the irony, Chelsea supporters having and showing class, something which, according to most Liverpool and Arsenal fans trolling us on Twitter, Chelsea simply don't possess.
I've always found it peculiar that many football supporters want to be seen as having class. What do they mean? I thought football was supposed to be a working class game? Is the inference here that football supporters don't possess the right amount of class, or that they aspire to being gentlemen? I admit I am somewhat confused by it all. Isn't one of the fundamental problems with modern football its gentrification, and ergo too many supporters of shall we say a higher class who do not understand its unique tribalism encroaching on the game?

'Jose Mourinho made an approach for Antoine Griezmann last January, but baulked at the £24m fee. Instead he signed Mohamed Salah'
Read Spanish journalist Oier Fano's inside story on the Griezmann transfer here.
I find the accusation of Chelsea supporters having no class even more amusing. After all, Chelsea is a club in the heart of one of the wealthiest (dare I say classiest) boroughs in the country, so it is perhaps ironic that most of the classless jibes come from supporters living in the less classy areas of Liverpool and Arsenal. Perhaps they would be better off sticking to class war of the political kind and content themselves with accusing Chelsea of having too much class; something the good denizens who frequent those areas are possibly more adept at.
At the end of the day it is what it is, football. No more, no less. Liverpool begrudgingly gave Chelsea a guard of honour; Chelsea supporters seized upon their last chance to give it out to a bitter rival and then spontaneously applauded him, understanding the significance of the moment. Gerrard chose to somewhat petulantly belittle it after the match. I have no problem with any of this. After all it's a football match built on football rivalry and I wouldn't have it any other way.
David 'Stamford Chidge' Chidgey presents the award winning Chelsea FanCast radio show and podcast which can be heard every Monday at 19.00 on mixlr.com/chelsea-fancast/or downloaded from ITunes, Soundcloud and chelseafancast.com. Follow us on twitter @StamfordChidge and @ChelseaFanCast