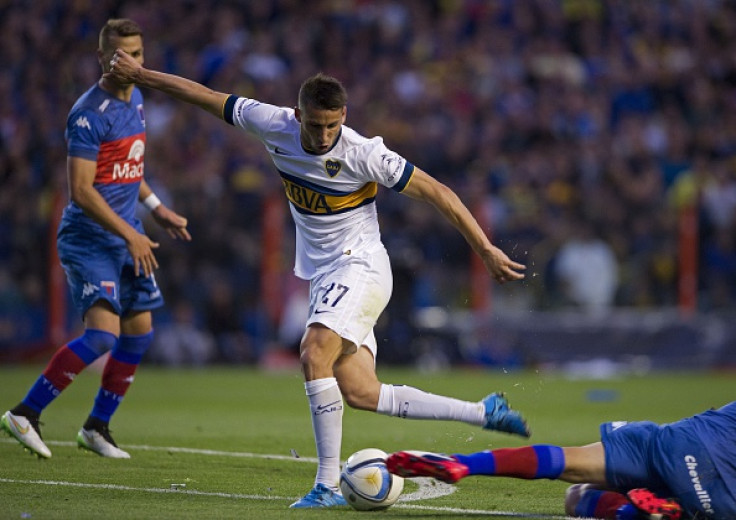 Chelsea have a deal in place to sign Boca Juniors forward Jonathan Calleri who has been in good form over the course of the season. The Blues have a good scouting system in South America, which is evident from their purchases over the past few seasons and the same has been leveraged to complete a deal for the 22-year-old.
French publication L'Equipe claims that the player will be bought for a fee in the range of €9m (£6m, $10m) in January and loaned back to another club in the summer for experience. The Blues have a host of South American players in their squad in the form of Willian, Ramires and Oscar, while also signing Nathan in the summer, who has been given a few opportunities with the first team.
The striker has set the division on fire, scoring 10 goals and claiming seven assists thus far and will be a brilliant addition to the repository of young talent at Stamford Bridge. He is among the most promising players in the league and is known for his versatility, capable of playing on the right and through the middle.
Meanwhile, Jose Mourinho has confirmed that he is not looking to overhaul his squad as the problems currently at Chelsea are of his own making and he will have to work with the players to get them resolved. The Blues are currently 16th in the league, having lost seven games already this season and are three points clear of the relegation zone.
"I don't need to clean the dressing room, like I heard was written somewhere. And I don't need to ask the club to spend money in January. I'm not saying I won't sign [anyone]. I'm saying I won't ask the club to do it," he said. "I don't have the right to do it, in my opinion. I'd be more than happy to be myself and the squad that I have now. I am happy with my players, I trust the players," Mourinho said, as quoted by ESPN.