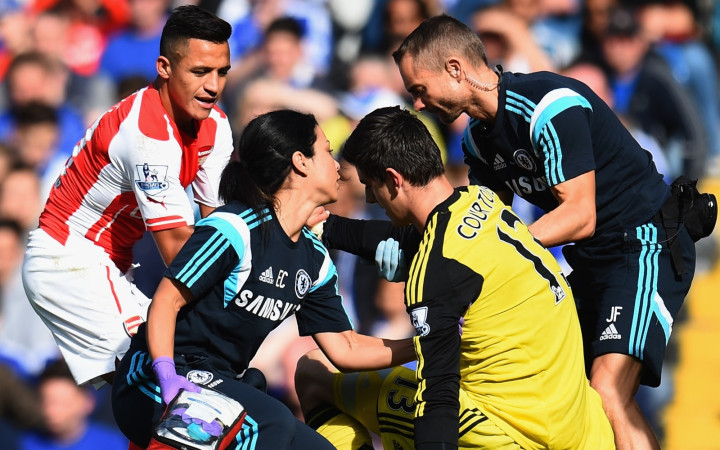 Chelsea number one Thibaut Courtois has revealed Petr Cech sent him a message to tip him about how to protect his head after his collision with Alexis Sanchez during the 2-0 victory over Arsenal in the London derby on Sunday 5 October.
The Belgium international keeper suffered a knock to the head and was eventually forced to leave the pitch after blood was seen to be streaming from his ear.
Courtois has once again claimed he has a good relationship with Cech, despite their battle for the number one role, revealing the veteran keeper even sent him a supportive message after the incident.
"Petr sent me a message after the Arsenal game; he tried to call but I couldn't answer the phone, so he texted me, which was really nice of him," Courtois said, according to Chelsea's official website.
"He told me in the Premier League some strikers go in hard against the goalkeeper, so sometimes it's maybe better to protect your head, get down quicker using your shoulder or leg to protect your head.
"That's the tip he gave me and it was good because when you come to a new league sometimes things are different."
Nevertheless, the incident was not as bad as it was first thought and the keeper was given the green light to to play for Belgium for their Euro 2016 qualifiers against Andorra and Bosnia and Herzegovina last week.
The 22-year-old keeper also returned to the number one at Chelsea during the Saturday victory over Crystal Palace.
"I've already played two games with the national team after the injury against Arsenal, so there's no problem," he said. "I'm not thinking about not diving at the feet of opposing players, you just have to do the same things. What happened against Arsenal was real bad luck but it can happen."
While speaking about his constant comparison with Cech, he said: "When you come to a big team, there is always pressure.
"I know Petr is on the bench, I know people are looking and I don't have any problem with that. I'm just helping the team win games, doing the best I can, training hard and working hard. I did the same at Atletico, another big team, so hopefully we can get a lot of wins."