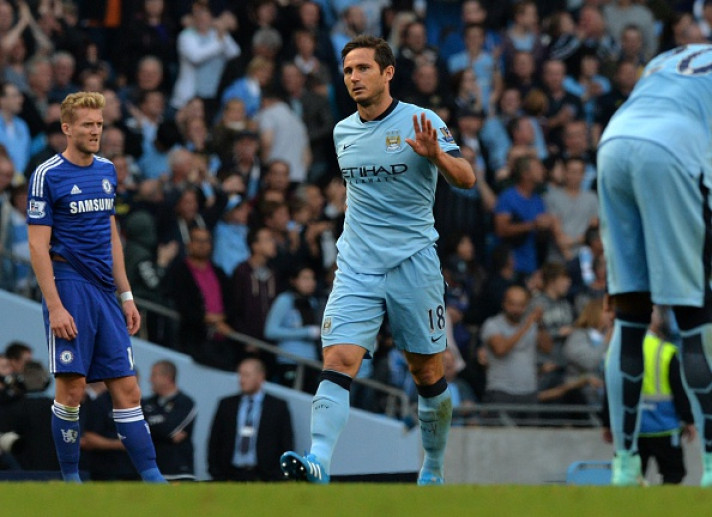 Chelsea manager Jose Mourinho has admitted the Blues lost a crucial "matchwinner" when Frank Lampard left the club to join Manchester City but says "life goes on" and they have managed to cope out with his absence during the current campaign.
Even though the England international started 31 games in his last campaign in all competitions for Chelsea, while scoring seven goals, the Portuguese boss chose not to offer him a new contract at Stamford Bridge in the summer of 2014.
And even though the 36-year-old seemingly signed for MLS side New York City, he has spent the season at Manchester City, playing a peripheral role but scoring five Premier League goals, including one against the Blues earlier in the campaign to deny his former club victory at the Etihad Stadium.
But Mourinho has sung the praises of Lampard, claiming he is "one of the five most important players in the history of the club".
"We lost, at the end of last year, what I consider for sure, one of the five most important players in the history of Chelsea Football Club: Frank Lampard. We lost that player. But life goes on. You have to think about the future and build," the manager said.
"Because, with Frank Lampard, Chelsea lost a matchwinner with the number of goals he scored, a big character, a player without injuries who played every game, an absolutely amazing player. We lost him, but life goes on."
Mourinho signed former Arsenal star Cesc Fabregas from Barcelona to replace Lampard in the middle of the park and he believes players like Branislav Ivanovic and Cesar Azpilicueta have filled the midfielder's void in the dressing room with their experience.
"Ivanovic is experienced, Azpilicueta is getting experience, Hazard has been here for three years, Matic is getting experience," the manager said. "Ruben Loftus-Cheek is 18 and he just arrived. In five years' time he will be 23, so I see this as a natural process."