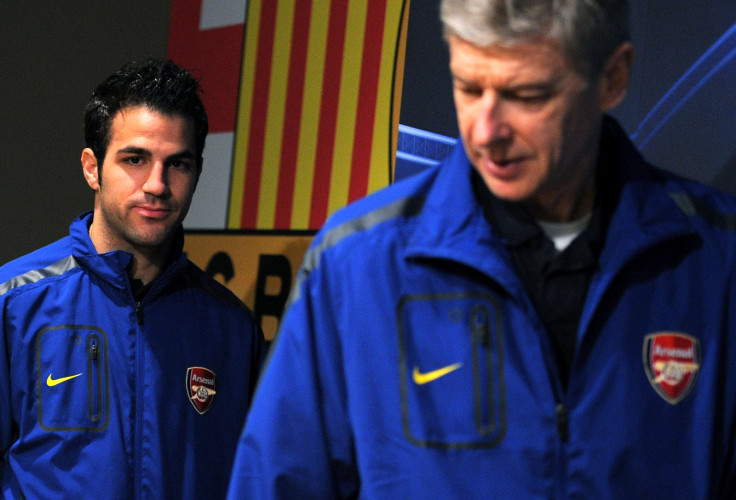 Chelsea midfielder Cesc Fabregas still considers Arsenal manager Arsene Wenger to be the biggest influence on his career. The Spanish midfielder, now 29, joined the Gunners from Barcelona when he was just 16 - and has thanked the Arsenal boss for exposing him to first-team football at such a tender age.
Fabregas played over 300 times for the north London club before rejoining his boyhood side. And although he now plays for Arsenal's cross-city rivals Chelsea, Fabregas has admitted Wenger's "special" approach helped shape him as a player.
"Arsene Wenger was probably the most important because he gave me the chance – the real chance that everyone needs and everyone wants," the Premier League-winning star told FourFourTwo. "After that it's up to you to prove whether they are right or wrong."
Indeed, Fabregas admitted the Arsenal manager served as a father-like figure to him during the early stages of his professional career. "He gave me the chance. He took me when I was only 16, made me a better player, a better person, and was like a second father with the way he treated me," said the former Arsenal captain, who joined Chelsea in 2014.
"It's not normal nowadays in football because everything is so fast and everyone is so impatient. You need results now. So for that Wenger is a special manager, a special person, and I know without him I wouldn't be here right now."
After signing for Chelsea two years ago, Fabregas admitted Wenger passed up the chance to resign him for the Gunners, who had inserted a buy-back clause in their deal with Barcelona. "Everyone knows that Arsenal had the first option to sign me," he previously said of Arsenal's snub, according to the Daily Express. "They decided not to take this option and therefore it wasn't meant to be. I wish them well in the future."