The expression "it's just a game" is one used to incense and anger those for which sport was more than life or death. Sport is often described as a release, even a religion to some, but the truth is once it becomes a vital amenity it absorbs, swamps and feasts on the conscious and stops becoming a glorious pastime. Hooliganism, brutish behaviour and even betting are unintended by-products of an age where some sports matter too much.
At Stamford Bridge, during a Champions League night where the purity of sport was expected to be the primary subject of a match that saw two of Europe's giants Chelsea and Paris Saint-Germain collide, we experienced football at one of its lowest ebbs.
Over the two legs, which eventually saw the French league champions prevail on away goals after extra time, the poisonous sporting event further soiled the reputation of the game. The real problem being that it was an accurate representation of a sport that has fallen off the wagon.
The main themes of the 120 minutes in west London - cheating, gamesmanship, sportsmanship, ungentlemanly conduct and disrespect for the game - are all ideals that have regressed under the mismanagement of the sport's ivory-coated authorities. The priorities of the governing body, more focused on "growing" the sport than preserving it, and increasing rewards at the elite end have ensured it has manifested itself into a disgusting arms race.
Win at all costs
Football clubs and their players will now sacrifice anything to reach the pot of gold. Owners have their finger permanently on automatic fire, chief executives are prepared to risk a club's immediate future with dangerous financial risks, players will compromise their integrity to have others unfairly punished and teams will adopts a mob mentality in order to intimidate officials.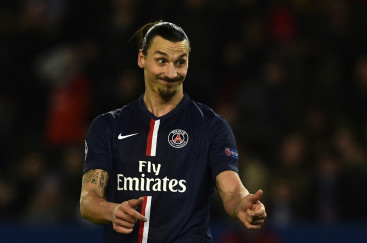 Chelsea and PSG have been guilty of all these shortcoming since they became consumed by the riches of oil from Russia and Qatar and now they are being drowned without a trace of honour. These are not new realities, more a description of how football has entered a realm beyond regular enjoyment.
Satisfyingly, the footballing drama of a Champions League last 16 tie that began with Chelsea supporters' racially intimidating behaviour in Paris and ended with Diego Costa and Yohan Cabaye bickering at full-time, is a footnote. The sport needs to see what it has done to itself. Uefa, however much it tries, will surely be unable to bask in the spotlight of two dramatic matches. It is important the story of shame is told.
From the horrid play-acting from Oscar that let to Zlatan Ibrahimovic's dismissal, the harassment of referee Bjorn Kuipers, the theatrics from almost every individual, Costa's bullying of the PSG team, David Luiz's cowardly elbow on the Spanish striker and demands for Chelsea players to be constantly reprimanded, and regular confrontations between both sets of players, it was an evening where every indiscipline was breached in order to deliver victory. It has never mattered this much.
Perhaps the most infamous and documented managerial spell of them all, Brian Clough's ill-fated 44-day spell at Leeds United, began with him demanding the club win in the right way, ditching their old-school traits. Ahead of the marking of what would have been his 80<sup>th birthday on 21 March, it is a sentiment that resonates more than ever before, simply because it is now an unworkable pipe dream.