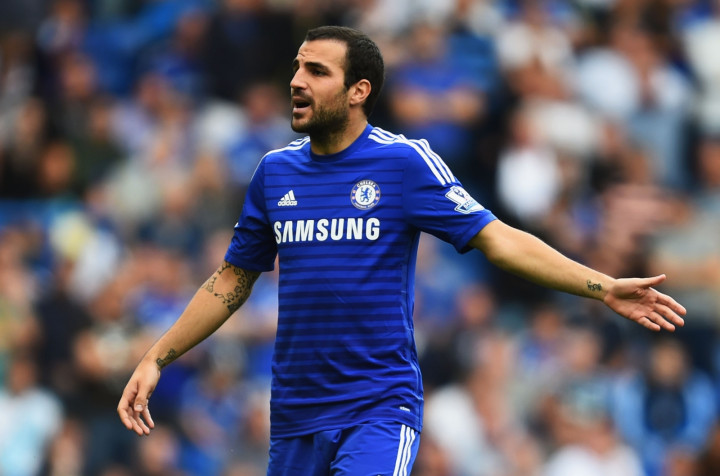 Spain coach Vicente del Bosque has risked reigniting the war of words with Chelsea manager Jose Mourinho after claiming that Cesc Fabregas initiated his own withdrawal from the squad to face Belarus and Germany.
Fabregas played through the Blues' 2-1 win over Liverpool with the injury but joined up with the national team prior to being assessed by Spain's medical team.
The Chelsea midfielder eventually pulled out of the squad for the international double-header despite medics being unable to find anything wrong with with the former Barcelona man -- leading to questions over the reasons for the 27-year-old's withdrawal.
But Del Bosque, a World Cup and European Championship winner with Spain, says he is satisfied Fabregas is telling the truth regarding his fitness despite being given a clean bill of health.
"We had to wait a few days to evaluate Cesc's injury and we opted for him not to continue with us," Del Bosque said.
"His muscle seems all right but he complains and he is the best doctor. I prefer not to be deceived but I cannot be distrustful.
"When a player of his calibre tells you that he is injured, you have to believe him. At times we have been flexible but not in this case."
The 63-year-old's comments comes in the wake of a club v country war over the fitness of Diego Costa -- also out of the latest Spain squad -- who has continued to play for both Chelsea and Spain despite suffering from a serious hamstring injury.
Mourinho continually lamented Spain's treatment of Costa, who will rest the injury during the international break, with differing reports emerging from both the national team and the player regarding his fitness.
Though Mourinho will be delighted having seen Fabregas pull out of the squad, he will likely be upset at the thinly-veiled accusation that the Chelsea man could have been lying despite the Portuguese boss claiming the club "gambled" over the player's fitness against Liverpool.