Chelsea midfielder Oriol Romeu is looking forward to working under Jose Mourinho but is aware that his dream of playing regularly for the Blues may have to wait.
Having moved to Stamford Bridge from Barcelona in summer 2011, the Spaniard has spent the last two campaigns on loan at Valencia and Stuttgart.
Romeu signed a new three-year contract in west London just before his move to the Bundesliga because Mourinho assured him he would have a future at the club.
But during an interview with IBTimes UK Romeu claims that even though he will work hard during pre-season to convince Mourinho he deserves a role in his squad, he is open to going out on loan once again.
"On 6 July I will start the pre-season with Chelsea and then we will see what is best for me," the 23-year-old said. "We will see whether I can win a place here or if it is better go on loan.
"We will analyse the options but fortunately the Chelsea sporting director [Michael Emenalo] had told me that there are a number of clubs interested in me. There are some interesting options in England and in Spain so let's see how the pre-season goes and then make a decision.
"I don't want to stay at Chelsea to not have playing time. Any player wants continuity and knowing that there are clubs interested in me maybe it is better to go to keep playing."
Despite still being in the infancy of his football career, Romeu has already been managed by some of the best bosses around such as Luis Enrique, Pep Guardiola, Andre Villas-Boas and Rafa Benitez.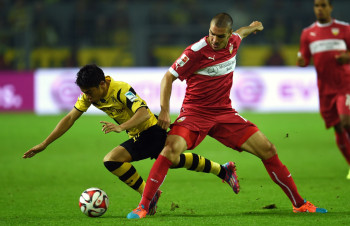 And in the long-term he dreams about continuing to learn under Mourinho.
"Working under him is a special motivation," he explained. "I did the last pre-season with him and he surprised me for the better. His training sessions are really good, always with an intention behind every exercise.
"And in face to face communication with the players he is completely different as seen from outside. He tells you things to your face and for every player having a manager like this is luxury because many coaches just tell what you want to hear rather than what they think.
"Before leaving for Stuttgart he told me he wanted me to have regular time elsewhere but that he liked what he has seen from me during those weeks. He told me I fit in his profile, working hard and being aggressive."
Chelsea have been monitoring Romeu's development in the Bundesliga closely and still have faith in his future.
"The contact has been constant. A scout watched all our games and sent me videos to keep learning. The sporting director told me they still have me in their mind for the future as that's why they extended my deal last summer. They told me they don't have much depth in my position and hopefully one day and I can make the step up to Chelsea."
But Romeu is aware that that step may take a while as he had an impressive first part of the season at Stuttgart but fell out of favour since the new manager arrived at the club at Christmas. Furthermore, Mourinho has already confirmed he expects to bolster the midfield during the summer transfer window.
"Chelsea are likely to sign someone but I wish to prove during the season they can count on me. But at Chelsea you have to be the best to play. Honestly this year I can't demand them to have a regular first-team role. If I would have had an amazing season it may be different but now I just have to accept what they told me and if they consider a new loan is best I will do that."