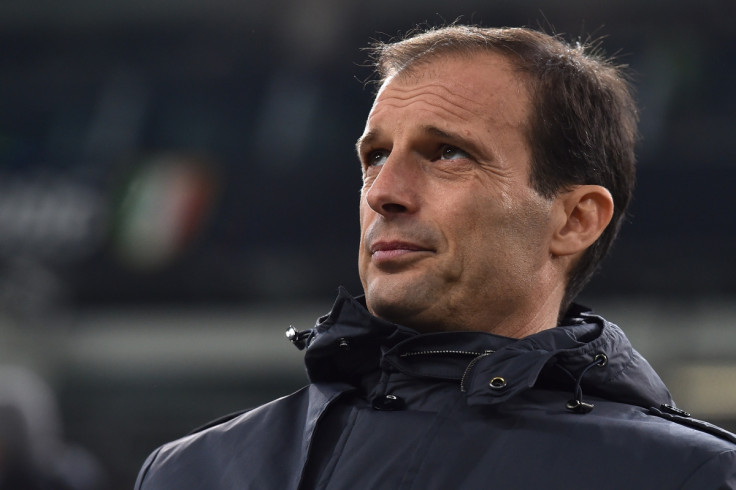 Massimiliano Allegri has dismissed mounting speculation that he is set to succeed Jose Mourinho as Chelsea's permanent manager this summer. The former AC Milan boss won a domestic double during his first season in charge of reigning Italian champions Juventus in 2014/15, denied a third major trophy only by virtue of a 3-1 defeat to Barcelona in the Champions League final.
Although they currently trail next opponents Napoli by two points at the summit of Serie A, Juve are enjoying yet another impressive campaign. A 2-0 victory at Frosinone on 7 February was their 14th consecutive league win, while they also hold a comfortable lead over Inter Milan ahead of their Coppa Italia semi-final second leg at the San Siro in March and soon face Bayern Munich in the last 16 of the Champions League.
Such fine form has led to suggestions that Allegri may now have overtaken Atletico Madrid's Diego Simeone as the leading candidate to take the reins at Chelsea after interim manager Guus Hiddink's second temporary stint comes to an end in May. Calcio Mercato believes that a four-year deal valued at approximately £5.3m ($7.7m) per annum is already on the table at Stamford Bridge, with the 48-year-old's current contract due to expire in June 2017.
Allegri has now firmly rejected those rumours, however. Speaking to Sky Italy, he said: "There's nothing to it. I cannot either confirm or deny something that doesn't exist.
"I want this matter over and done with now. What's important for me right now is to get to the end of the season with Juventus and try and win some silverware."
Juventus are understandably eager to keep hold of Allegri and director general Giuseppe Marotta earlier this week urged him to "think twice" before deciding to leave. Ex-manager Giovanni Galeone believes he will join Chelsea, however, praising the terms offered by owner Roman Abramovich and citing the need for his former client to further his career.
"I think Max will go to Chelsea and will do very well," he was quoted as saying by Gazzetta Dello Sport. "Allegri is doing incredible things, even if the club failed to buy the players he requested last summer: from Mario Gotze to Isco.
"He will leave Italy, and I see him going to England because the deal Roman Abramovich has offered is really fantastic. As one of the five best coaches in the world, he has to leave Juventus, it makes no sense for him to stay in Italy."