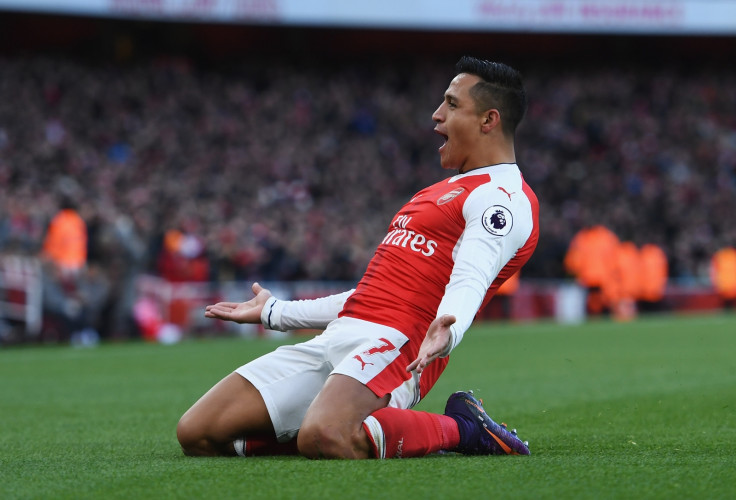 Chelsea are willing to make a swoop for Arsenal's marquee star Alexis Sanchez should the Chilean refuse to sign an extension on his current contract. The forward only has 18 months left on his deal and is looking for a wage hike that will put him in the same stature as the likes of Paul Pogba in Manchester United.
The Mirror reports that the Blues want to sign Alexis and pit him alongside Diego Costa, with both tied for the golden boot in the current Premier League campaign at 13 goals. Should Chelsea manage to sign Alexis, they will have the most fearsome attack in the league, with Eden Hazard also contributing with goals.
Chelsea are also looking to tie down Costa to a new contract with Antonio Conte having got the Brazil-born striker to his best and firing on all cylinders. The Blues are top of the table on the back of Costa's brilliant performance, three points above the Gunners, who are second.
Meanwhile, Arsenal are trying their best to reach an agreement with the 27-year-old, who has been their most important player thus far, with manager Arsene Wenger recently insinuating that the two parties are a bit apart on valuations over wages. The Gunners manager added that it was difficult to come to a truce because the renewals are done through the players' agents, with the actual party having little to say in that matter. Mesut Ozil is another player whose contract is expiring in 18 months but the report states that keeping Alexis is a bigger priority for the Gunners.
"You know, nowadays, you negotiate with the agents more than with the player. We are in negotiations, yes. The players [Sánchez and Mesut Özil] are 18 months away from the end of their contracts, so it's normal to be talking. But the players always come in at the end, when it's a renewal, because with the first contract you need the players present. But after that, when you renew, 90% of the contracts are negotiated with the agents," Wenger said, as quoted by the Guardian.