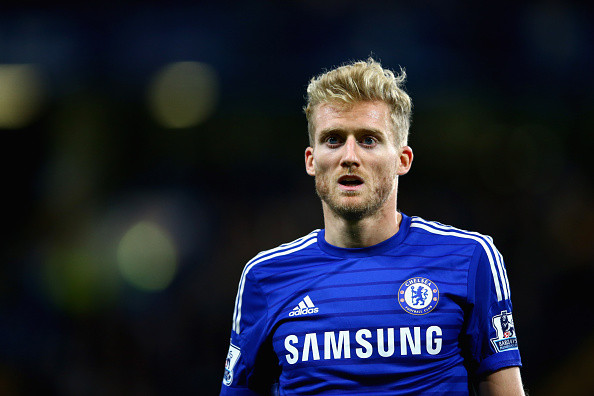 Chelsea star Andre Schurrle revealed he has gone through a "hard to get over" mystery illness since the beginning of the campaign but is now close to his peak form.
After a transitional debut season in the Premier League, scoring eight goals in 15 Premier League starting appearances, he was expected to become a crucial part in Mourinho's plans during the current campaign.
Although he started during the Premier League debut against Burnley scoring a goal, he has since fallen out of favour in plans ahead of Willian, having only started since in three Premier League games.
Schurrle has now explained his lack of form has been due to a mystery illness.
"I have had an illness that has lasted weeks and weeks. And I am not yet where I want to be with my body but I feel better now," Schurrle told IBTimes UK.
"I don't want to say what the illness was exactly but the symptoms are hard to get over. While they may have gone away, it took a toll on my body and it takes lot of time to get back to match fitness,
"The first weeks of the season with Chelsea were actually very good, very positive. I scored against Burnley and the following games were good, too. But then my body just shut down a little bit, because I was tired and maybe a little bit in my head and mind as well. I was doing all the training and travelling and it was not easy.
Nevertheless, after an excellent performance during the 3-1 victory over Sporting Lisbon in the Champions League, scoring a goal, Schurrle believes sooner rather than latter the Blues fans will see him back to his best.
"I did not feel really well. On the pitch I tried to work harder but I needed more time. For the last couple of weeks, I have been training very hard and trying to get back my fitness. You saw [against Sporting] that I am very motivated,
"It's important that Mourinho knows what I have been through. He has helped me. But of course he wants me to be out on the pitch and to be 100 per cent fit. He puts a little bit of pressure on me to get fit, to work, but that is good for me after the talks that we had. I'm not where I want to be but I feel better and you could see that I was very motivated last night."
When questioned whether he is ready for a ninety minute game, he said: "It's depends on the match."
"It's like up and down, up and down, it will be difficult but I got 75 minutes against Lisbon and I felt good. We will see how my body is and just take it game by game. But I am in a good way at the moment."
Meanwhile the German international has rubbished recent reports claiming he is considering leaving the team during the January transfer window.
"I can just laugh all the talk of leaving off. I am not going to change the club in the transfer window.
"I am happy where I am, I am happy in London. I love the city, I love the fans. We have a great team and want to win something this season. This is where I belong and where I want to help. I know what the manager wants for me and that he likes me."