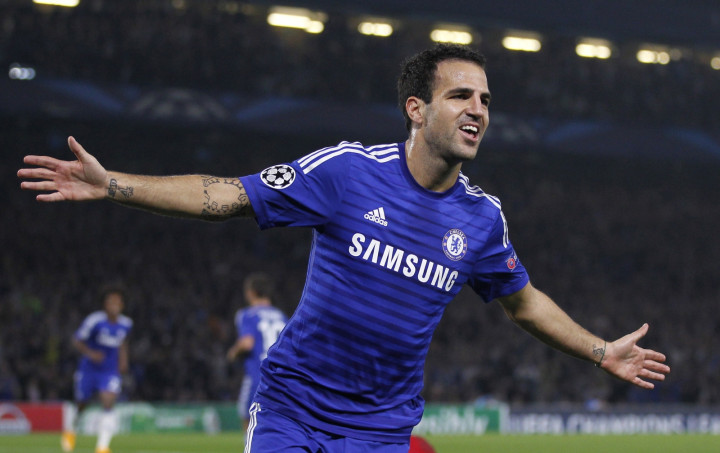 The Spanish football Federation have finally ruled out Cesc Fabregas for the the games against Belarus on Saturday, 15 November, and a friendly against Germany three days later, after the Chelsea star failed his medical.
Jose Mourinho claimed on Saturday that Fabregas played with an injury during the 2-1 victory over Liverpool and that he was expected to be out of action for around three weeks – meaning he was going to miss both games with Spain as well as the Blues games against West Bromwich Albion and Schalke after the international break.
"Fabregas put himself on the line. He gambled. We all gambled. He can't play for Spain. He can go but he will come back," Mourinho said.
However, Spain boss Vicente del Bosque urged the Chelsea star to fly to Madrid to take a scan by the national team doctors – with some reports suggesting he didn't trust what he heard from the Portuguese boss about Fabregas' latest injury after the recent issues over Diego Costa.
"We want our doctors to examine him. That's not to suggest that we don't have faith in what the player says or what Chelsea's medical team say but we would prefer for our own national team doctors to get a second opinion and clear the matter up. Cesc is still on the list and that's the end of the matter," Del Bosque said on Monday.
However, after Fabregas took a scan earlier on Tuesday the Spanish federation have finally given the Chelsea star the green light to return to London and continue the recovery with his club – while having already named Villarreal midfielder Bruno Soriano as his replacement.
In an official statement the Spanish federation claim that even though Fabregas' injury is just a minor hassle the national team doctors consider "his participation in the next games would not be recommended for full recovery."
"According to the scan carried out this morning, showed a great improvement with regards to the tests carried out by the medical staff in his club on Sunday. His diagnosis is a inflammatory process in the proximal insertion of the hamstrings.
"Although the scan rejects any possibility of a hamstring injury, the player continues suffering discomfort and the medical staff considers that his participation in the following matches would not be recommendable for the complete recovery."