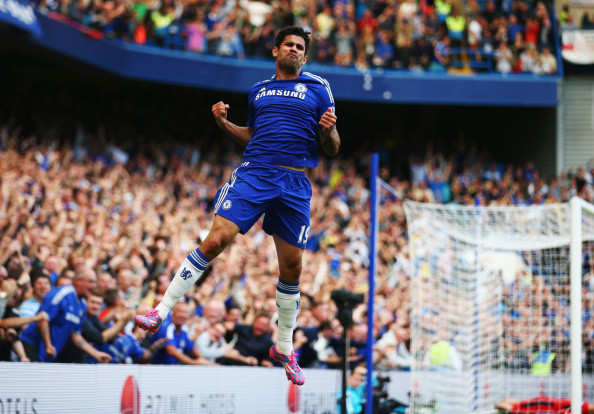 Chelsea striker Diego Costa has told IBTimes UK he is still playing with some discomfort in his hamstring, but hopes to reach his peak form in the next few games.
Jose Mourinho recently surprised everyone by claiming Costa was not at his optimum physical condition, despite a formidable start to the campaign, and even said he was unable to play two games in seven days.
Costa has clarified his injury concerns to IBTimes UK, claiming he is getting better every day and will soon be able to play with no discomfort.
"I am still carrying some hamstring discomfort but every day I feel better. The truth is that the past week I have worked fine.
"I'm working to get the best physical condition soon. The games we have now, almost every three days, will help me to get fit."
The striker finished last season with a hamstring injury and recently Mourinho blamed Spain after he suffered a recurrence during international duty.
However, even though Costa is still suffering some pain, he has since scored a hat-trick against Swansea and started the 1-1 draw with Manchester City on Sunday.
"I suffered an injury with Spain and could not play against Macedonia. It was a shame but then during the week I was treated and could play [against Swansea last weekend]," he said.
After scoring seven goals in the first four Premier League games, Costa couldn't prolong his fantastic start against City but he is happy with the point his team secured.
The striker refused to set out a personal goal target for the season, saying the most important thing is to help Chelsea win a trophy.
"I don't like to put a personal goal target" he told IBTimes UK. "I cannot always score but the important thing is that the team did not lose. I always try to improve but the most important thing is that the team is playing well and if the the team does well I am sure I will also do fine.
"Hopefully we can win a title this season. That is our goal and I personally hope to continue scoring."
A late goal from Frank Lampard denied Chelsea victory over City, after the Blues had opened the scoring through Andre Schurrle and City had gone down to 10 men.
"We played against a great team and we knew it would not be easy to win here. But as we were leading the game and got one more men we thought the victory was near" Costa revealed. "But this is football. City are one of the best teams in the world and to get a point there is important."
Speaking about the competition provided by returning club legend Didier Drogba and Loic Remy, he added: "I think there's a great atmosphere in the dressing room. No rivalry. We just fight to improve.
"Didier and Remy are great strikers. Everyone knows Didier's story. We know that we must continue working. The important thing is to have a healthy competition to help the team to be better".
Turning to midfield stars Cesc Fabregas and Eden Hazard, Costa concluded: "They are great players. It is very easy to play with guys with such a talent. We understand each other very well."