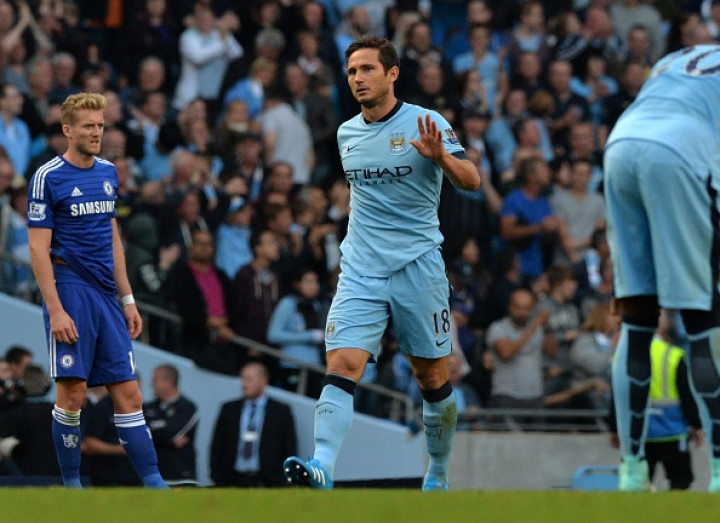 Manchester City midfielder Frank Lampard admitted to mixed emotions after scoring against Chelsea during the 1-1 draw at the Etihad on Sunday.
Andre Schurrle opened the scoring for the Blues in the 71st minute and Lampard came on from the substitute's bench to score the equaliser in the 85th minute against his former club.
The 36-year-old left the west London club after spending 13 years at Stamford Bridge. Lampard was released after his contract expired earlier in the summer and he signed for Major League Soccer side New York City FC.
The Chelsea legend returned to the Premier League after Manuel Pellegrini signed the midfielder on loan. Lampard admitted that it would have been "unprofessional" if he did not give his best for City on Sunday.
"It's a really difficult one. I'd be unprofessional if I didn't come on and do my job, so I was trying to get into the box and it was a great ball back from Milly [James Milner]," Lampard told Sky Sports.
"It's a tough one for me. I had 13 amazing years with the Chelsea fans, so I am mixed with it. I am obviously pleased the team I play for got a draw.
"I am a little lost for words. I didn't expect to come on and score like that.I came on and the Chelsea fans were singing, and that's emotional.
"Then I am playing for this club, who have taken me in brilliantly as well, so I am really stuck in the middle here," the former Chelsea star concluded.
Meanwhile, the City manager has revealed to have held conversation with Lampard before playing him against his former club on Sunday.
"I asked him if he wanted to be involved, and of course he wanted to be involved. That shows how great a professional Lampard is," Pellegrini explained.
"I am sure he was not happy to score against such an important team in his career, but he's a good professional, he is a very good player," he said.
The draw against City saw Chelsea end their four match winning streak. Despite the result, Jose Mourinho's side sit on top of the table.