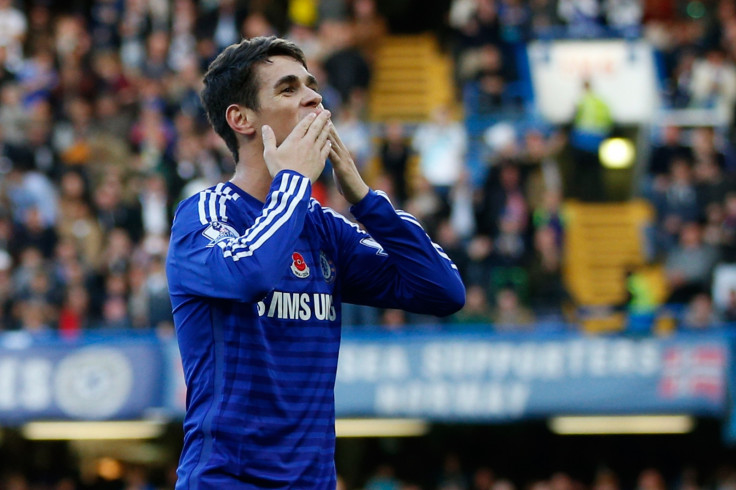 Chelsea playmaker Oscar has revealed he has had a fantastic 2014 after committing his long-term future to Stamford Bridge with a new contract and playing in his first World Cup, in his homeland.
The Brazil offensive midfielder joined the Blues from Internacional in summer 2012 under then manager Roberto Di Matteo for around £25m.
Oscar quickly adapted to the pace of the Premier League and, following the return of Jose Mourinho to the club, he gained even more influence in the team. He established his place in the starting line-up even ahead of Juan Mata.
The playmaker has also become a regular for Brazil's squad and despite only being 23, he was one of the leaders of the national team alongside Neymar during the World Cup.
Having started 14 of the 16 Premier League games this season, Chelsea recently rewarded him with a new deal, increasing his salary while confirming his future in west London until 2019.
Speaking about the last 12 months with Chelsea's official website, Oscar said: "I look back on 2014 with happy memories.
"It was an important year for me - I played in the World Cup in my home country and was very happy to sign a new contract with Chelsea.
"We didn't win a trophy but the team has grown very well and it is good for us if we can be at the top of the league when the year ends. It means we begin 2015 where we want to be and sends out an important message. I think 2015 can be a special year for this team."
The Blues visit Stoke City on Monday 22 December at the start of the Christmas busy period, then will host West Ham at Stamford Bridge before two away games at Southampton and Tottenham Hotspur.
"It is a very busy time to be a footballer in England. There are lots of matches to play at Christmas time, which is unusual but it is why the Premier League is so special," he said.
"All of those matches will be difficult for us. I have played in England long enough to know Stoke is a physical team and a stadium with a big atmosphere, which is difficult to play in.
"West Ham and Southampton are both having a very good season, and Tottenham is a big derby match."