Chelsea striker Diego Costa could miss the rest of the season says Jose Mourinho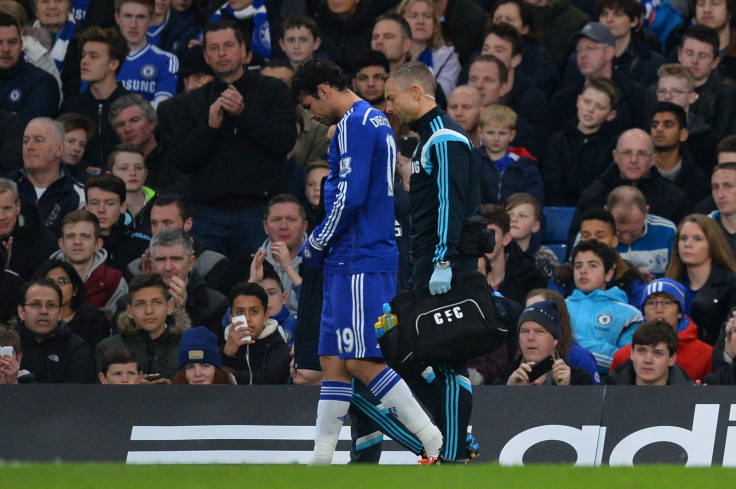 Chelsea could be without top scorer Diego Costa for the remainder of the season if the club clinch the Premier League title against Crystal Palace on 3 May.
Costa has missed the Blues' last four games, including the 3-1 win over Leicester City, with a recurrence of a long-standing hamstring injury.
The Spain international has resumed training but with Chelsea just a win away from claiming the championship, Mourinho is unwilling to risk the fitness of Costa.
"We don't need to rush so we are giving him the maximum stability to be stronger," Mourinho said. "There's a chance [he may not play again this season]. If we win on Sunday he won't play against Liverpool. If we don't win Sunday, he plays against Liverpool. In this moment, we are on result after result, needs after need.
"It isn't worth the risk. In the process of the last month, if we lose a game and we don't want to lose the second, he would be back for the second. We are trying to give him the maximum stability to be stronger. Remy is back.
"We are preparing a good working situation for him during the holiday period. I think three strikers is a fine number. The three strikers would always have time, always matches, rotation, form, performance, cards, injuries."
Costa is set to miss the visits of Palace, Liverpool and Sunderland on the final day, games that sandwich the club's final away game of the campaign against West Bromwich Albion.
The weekend clash with Palace represents Chelsea's first chance to win the title this season after leading from the start of the campaign and Mourinho is eager to put the league to bed.
"We need two or three points to be champions," the Chelsea boss added. "We need a victory, three points, if we can do at home that's better. If we can do it on Sunday then even better, that's what we have in our mind. We are calm.
"We are top of the league since day one. It's not a record but in modern day football it's very difficult to do. There are countries where domination is common for years and years.
"I don't think this country is a good example of that except in the last 20 or years ago when it was shared between a few clubs. When the season starts, if you want to be champion you also have the risk to finish fifth."
© Copyright IBTimes 2023. All rights reserved.