Disgraced QPR midfielder Joey Barton has weighed in on the incident involving Chelsea forward Eden Hazard and a ball boy at Swansea City's Liberty Stadium last night.
Chelsea were in Wales on Wednesday evening to play the second leg of the Capital One Cup semi-final, trailing 2-0 from the first leg in London.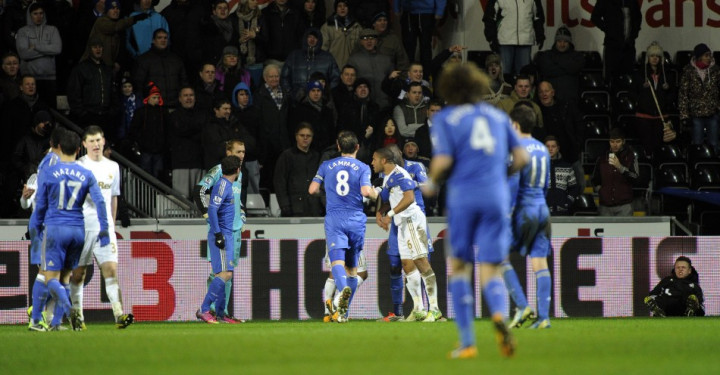 Barton, who is on loan to French club Olympique Marseille, tweeted the following:
"After reviewing last night's footage, I've come to the conclusion that the game has gone. Ball boys aged 17, time wasting, then rolling around like... they've been shot. Game has gone. He was actually claiming to be the best time waster in the world on twitter yesterday!"
The 30-year-old Barton also called for Swansea City to be punished and claimed that Hazard didn't kick the ball boy "hard enough".
"Swansea should face punishment also in my eyes. Hazard will be vilified for his overreaction. Hazard only crime is he hasn't kicked him hard enough..." Barton tweeted.
Barton's comments are unlikely to be well received, given his own disciplinary record. The midfielder was involved in an episode of violence and ill-temper against his old club Manchester City on the final day of last season, and was subsequently banned for 12 games by the FA.
The incident involving 22-year-old Belgian international Hazard and the 17-year-old ball boy (now identified as Charlie Morgan, son of Martin Morgan, owner of Morgan hotels and a major stakeholder in the Welsh club) occurred late in the second half.
The ball boy appeared to fall on the ball as it ran out of play, and refused to relinquish it, prompting Hazard to wrestle him and aim a kick into his ribs.
Hazard, who was given an immediate red card by referee Chris Foy, apologised for his actions when Morgan visited the Chelsea dressing room after the game.
In the run-up to last night's match, Morgan appeared to suggest he would attempt to waste time should Chelsea begin putting pressure on his team. He tweeted: "The king of all ball boys is back making his final appearance. #timewasting."