Chelsea Near Deal for Brazilian Prodigy
Internacional has not confirmed the transfer fee but stated Chelsea would also pay an amount owed to Sao Paulo, where Oscar played till 2010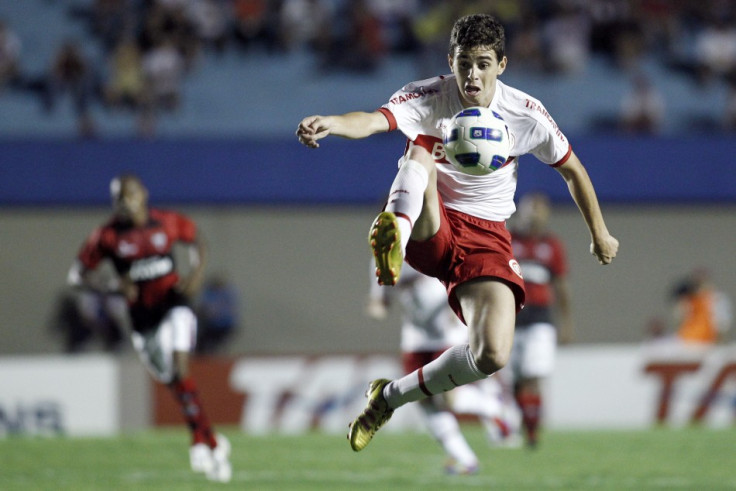 Internacional president Giovanni Luigi has revealed that Brazilian midfielder Oscar's move to European Champions Chelsea is on the verge of completion.
Reports have suggested a fee in the region of £25m has been agreed between the two clubs for the services of the 20 year old who is now in London, with Brazil's Olympic football team, preparing for the 2012 London Olympic Games. An earlier IBTimes UK report quoted Luigi as saying the two clubs had a verbal agreement. It now appears the formalities have been concluded and the player is now only waiting for paperwork for his Work Permit, to be allowed to play as a professional in England.
"The situation is very advanced, but not finalised yet. Oscar has to get his work permit. He needs to have a certain amount of caps to play in England, but I don't believe that will be a problem," an ESPN report quoted the president as saying.
There is still no official confirmation on the transfer fee but Internacional have added the Blues will pay another Brazilian club, Sao Paulo, a sum of money as well. The two Brazilian clubs had a sell-on clause in the contract that transferred Oscar from Sao Paulo to Internacional in 2010.
"I won't confirm the value, but I can guarantee it wasn't in pounds. No cross-border negotiation is made in pounds - it's either Euros or dollars. I have also reached an agreement with Sao Paulo over their part. It's Chelsea that will pay that, not Internacional," Luigi explained.
Dream Come True
Meanwhile, Oscar has described his probable Chelsea signing as a "dream".
"If I go to Chelsea, it will be a dream. It's a big club in Europe. I'm sure that I will have a great Olympics and I will stay in Chelsea. If it doesn't happen, I will go back to Internacional [in Brazil] to keep doing my work," the Guardian quoted the Brazilian youngster as saying.
The midfielder earlier revealed he underwent medical checks with the Stamford Bridge club but added that a deal might only be announced after the Olympics.
"I only had a meeting with the doctor, nothing else. I didn't sign any contract yet and I will wait until the end of the Olympic Games to decide my future. All Brazilian players have this dream. I have, like everybody, the dream to play in Europe and the Premier League," The Sun quoted Oscar as saying.
If the deal is announced, the Brazil international will become the Blues' third signing of the summer, after Belgian playmaker Eden Hazard and German midfielder Marko Marin signed on earlier.
© Copyright IBTimes 2023. All rights reserved.