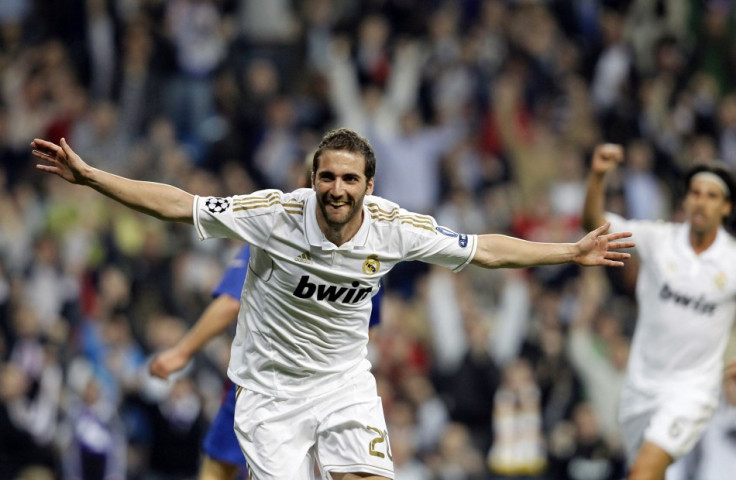 Real Madrid's Argentine striker Gonzalo Higuain will definitely not be leaving the club this season, according to comments made by Jose Mourinho and reported in the Daily Mail. The striker is reportedly a £35mn target for Roman Abramovich and Chelsea, among other clubs.
The forward has been oft spoken about as a potential transfer target for a number of high-level Premier League clubs, including Liverpool and Chelsea, while league leaders Manchester City have also been credited with an interest. In addition, a recent IBTimes UK report quoted Higuain's national team mate, Javier Pastore, as saying the two had spoken about life in Ligue 1; Pastore plays for French club Paris St Germain (PSG).
There has also been interest in the Argentine, according to a Goal.com report, from newly-crowned Serie A champions Juventus. The report quoted Marco Tardelli, a former Juventus player.
"It would take them three more signings in order to make that final leap in quality. And a striker of international class, someone like Higuain, would be very useful," the former player said, against the backdrop, in March, of the possibility of the club returning to Champions League football. The club has now, of course, confirmed their participation in the elite tournament for next year and given that club legend Alessandro Del Piero will not be offered a new contract, there is definitely room for Higuain in Turin.
Meanwhile, all the speculation surrounding Higuain's future has been driven by the player reportedly being unhappy at the lack of playing time at the Santiago Bernabeu. A second Goal.com report said his agent Norberto Cacho Recasens would talk to Madrid officials about the situation. Higuain himself, while admitting playing time was important to him, stressed he was "very happy" at Madrid.
"We are happy and proud. We should enjoy this now. We're like a family and we feel very happy. I don't want to talk about my future. I have a contract and I'm very happy here," Higuain was quoted as saying by the official Real Madrid web site.
That sentiment has now been backed by Mourinho.
"Higuain is staying here. He will stay at Madrid because I don't want him to go. He has an excellent contract here that runs for many more years. Even if clubs offer 40, 50 or 60 million Euros, we will not sell him. My two strikers for next season will be [Karim] Benzema and Higuain," the Portuguese tactician said, in the Daily Mail report.
The final word in the matter could be confirmation delivered by his father, Jorge Higuain, who was reported, in another IBTimes UK report, as saying: "There is nothing in [the rumours of making a move]."
The Argentine has been critical in Real Madrid's title-winning season, scoring 22 times in the league.