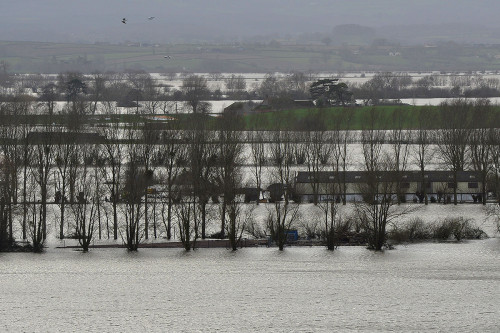 A seven-year-old boy from Chertsey, Surrey, is believed to have died from a waterborne disease linked to rats' urine.
Zane Gbangola may have died after ingesting dangerous flood water rather than from carbon monoxide poisoning, as was initially suspected.
The worrying idea that he may have died from Weil's disease, comonly known as rat disease, has arisen after authorities failed to rule it out as the cause of death.
Zane's father, Kye, 48, was also in a serious condition in hospital last night after he was rescued along with his son from their flood-hit Chertsey home on Saturday.
Zane's mother, identified as Nicole Lawler, 36, was also taken to hospital but did not require further treatment.
But 15 other people, including police officers, were also admitted as a precaution, Surrey Police said.
Residents were believed to be in a state of shock at the young boy's death.
Chris Norman, Surrey county councillor for the Chertsey area, said: "It is a huge blow, especially with the floods as rampant as they are in the area.
"This is a very sad event, perhaps connected to the flooding, we just don't know yet. There is certainly a sense of shock in the area."
Weil's disease is a form of a bacterial infection also known as Leptospirosis. It is carried by animals, most commonly rats and cattle. It can be caught by humans through contact with rat or cattle urine, most commonly through contaminated fresh water.
The disease claimed the life of Olympic rower Andy Holmes in 2010.
Police said carbon monoxide poisoning was another possible cause of death as the lethal gas may have been emitted by flood water pumps in the family home.
Weather take its toll
Elsewhere in the UK, all rail lines into Devon and Cornwall have been cut off due to flooding and a landslip.
Exeter City Council is calling for more government funding to keep the routes open as weather and flood warnings remain in force for most of the south-west.
Meanwhile, the Ministry of Defence has been blamed for not helping flood victims quickly enough due to a dispute over the cost of aid.
Troops were said to have been put on standby to provide support more than two weeks ago with lorries, specialist vehicles and hovercraft all ready to relieve the flood-hit south-west.
But a decision to use the equipment was put on hold when civil servants reviewed the cost of the operation.
Royal Engineers even visited Somerset and made an assessment of what the Army could deliver.
But the Environment Agency and Defra told them they were not needed.
A senior officer said the sight of Royal Marines packing sandbags on television was "pathetic".
He said: "We had JCBs and lorries ready to deliver sandbags by the pallet, boats which could have been used to evacuate animals from flooded farms and hovercraft to ferry the community.
"We were told our capability was not required and that is a fair call – but in my opinion the wrong call. This is all about money and who picks up the bill."