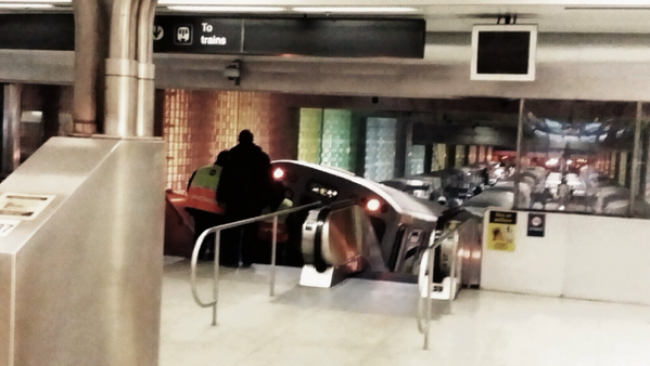 "It is a miracle that nobody died."
That was the response from transportation expert, Joseph Schwieterman, following the crash of the Chicago commuter train which ploughed into an escalator at one of the world's busiest airports.
Thirty people were injured when the train derailed at the city's O'Hare Airport at 3am on Monday.
Schwieterman from DePaul University said: "A train running up a (crowded) escalator could have been a worst-case scenario. When pedestrians are hit by a train, it is usually fatal."
He also pointed out the derailment slowed down the train's momentum, reducing the accident's severity. "Had the train stopped more abruptly, people would have been more violently slammed into the train's seats and walls," he added.
The Amalgamated Transit Union Local 308, the union representing the train operator, said the driver may have fallen asleep at the controls and accidentally moved the hand switch, making the train accelerate up the escalator.
Robert Kelly, the union's president, said: "I know she works a lot - as a lot of our members do. They gotta earn a living. ... She was extremely tired."
When asked whether she may have nodded off, Kelly responded: "The indication is there. Yes."
The National Transportation Safety Board now plan to speak to the operator, and examine the train's brakes, track signals and other potential safety issues.
Investigators will also be reviewing video footage from a camera in O'Hare train station and another mounted in front of the train.
In December a train derailment killed four people in New York. It was alleged that the operator may have lost concentration at the controls but a later report put the accident down to excessive speed.