KFC Fried Brain: Most Gruesome Things We've Found in Our Food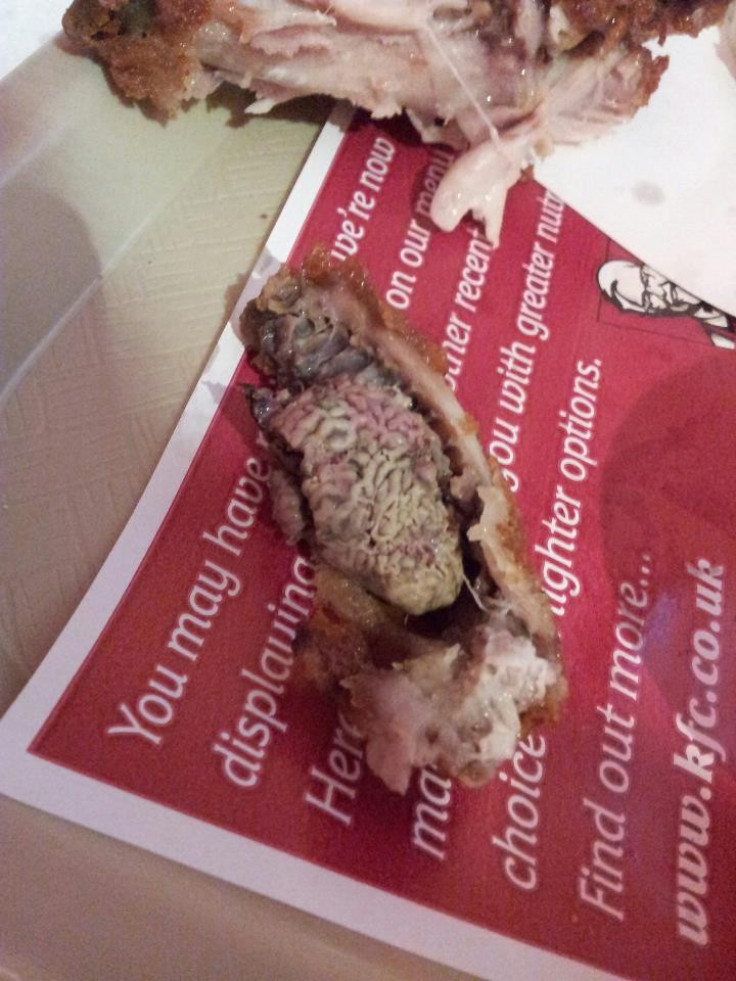 News of the student who found what he thought to be a chicken's brain inside one his KFC meals has brought international revulsion, after the image of the unpleasant extra was shared by thousands.
Despite KFC offering 19-year-old Ibrahim Langoo vouchers for free meals at the fast-food restaurant, the unhappy customer vowed, perhaps unsurprisingly, never to eat at KFC again.
A company spokesman tried to reassure Langoo that the offending morsel that came with his meal wasn't a chicken's brain - it was just a kidney.
As people have recoiled at Langoo's finding, the list of unexpected, yet deeply unpleasant, animals and objects people have found in their food is a long and unsettling one.
Rodents, bugs, kitchen utensils and contraceptive devices are just some of the unexpected delights people have found in their food, many of which have been lovingly collected here by the IB Times UK.
Deep Fried Chicken Head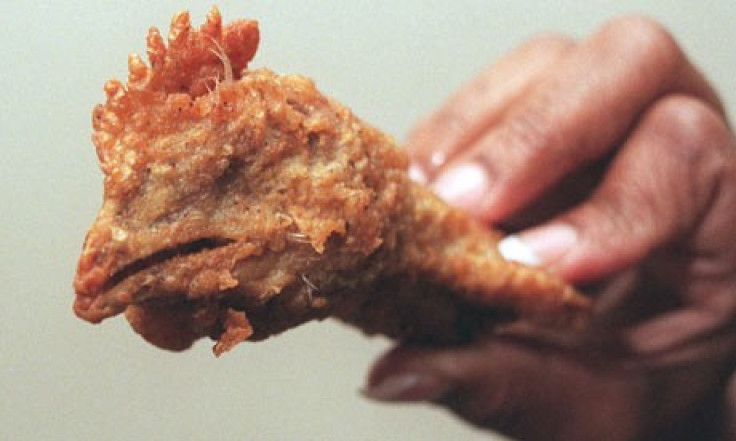 Sticking with the chicken theme, one mother in America was shocked to discover she very nearly put a full chicken's head in her mouth after she ordered her meal at a McDonald's in Virginia.
Despite the manager offering her and her family free McDonald's for two weeks, the mother pressed charges and demanded $100,000 (£62,000) compensation.
Black Widow in Waitrose Grapes.
Perhaps the most frightening example of an animal or insect found in food was when a nine-year-old Harriet Barron found a black widow spider in a pack of grapes bought from Waitorse in 2008.
A store spokesman said after the harrowing discovery: "This is an isolated incident and our fruit undergoes stringent checks during packing."
Mouse found in Bread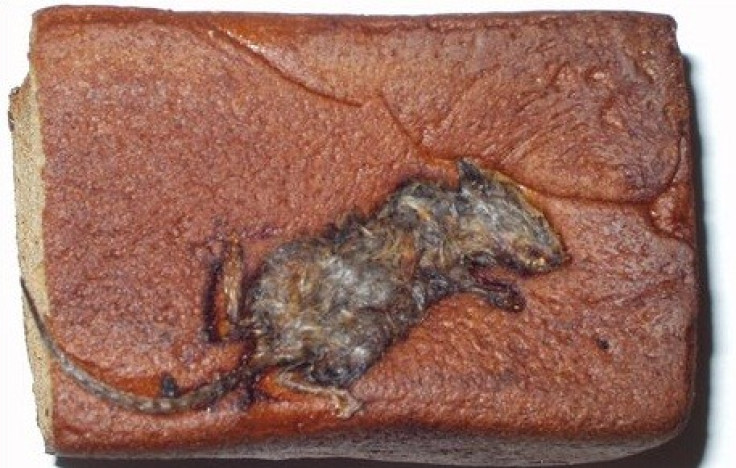 One of the most common animals found in food are mice. They get everywhere, from tubs of margarine to curry sauce bottles. But one place they seem to appear most often is in loafs of bread.
This perfectly formed rodent was discovered in a loaf bought from a supermarket in the Ballymoney, Northern Ireland in 2007. The manufacturer was fined £1,000 plus costs for placing unsafe food on the market.
Condom in French Fries
In another hugely embarrassing incident for McDonald's, a seven-year-old girl found a condom in her Happy Meal in 2009. Apparently she did not appreciate the extra sachet.
Frog in Salad
Consumer Sarah Moss was unfortunate to discover a dead frog in her bag of spinach purchased from Tesco in Shoreditch, east London last year. Just a week earlier, a customer in northwest London bought the same item, and made an identical discovery.
Faeces in Ice Cream
A row between a family and the chefs in one of the most popular tourist pubs in Sydney, Australia ended in a truly revolting manner, after the family were served with chocolate gelato which contained traces of frozen faecal matter.
The argument had stemmed from the family complaining about the staff members at the Coogee Bay Hotel, near Bondi Beach, and their conduct during a live football game
Finger in Frozen Custard
Clarence Stowers was another unsatisfied customer after he discovered part of a severed finger inside a pint of frozen custard he'd bought from a speciality retailer called Kohl's in North Carolina.
Officials said the offending finger, which Stowers accidently put in his mouth, belonged to a worker who was in an accident at the food processing factory.
Sesame Seed Coated Cockroach in Anchovy Snack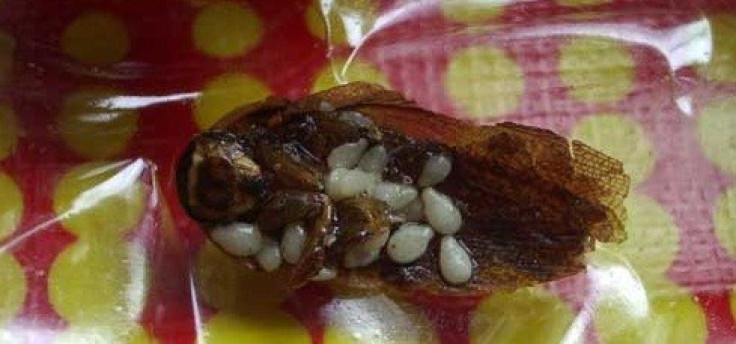 According to Singapore news website Stomp, this well-seasoned coackroach was found inside a packet of GoldenBoy crispy anchovy snack.
Knife Found in Subway Sandwich
John Agnesini from New York attempted to sue sandwich restaurant Subway for $1m in 2008 after he found a 7-inch blade baked into his sandwich. He suffered a mild form of food poisoning as a result of the incident, but recalled how it could have been much worse had he not properly inspected his baguette.
© Copyright IBTimes 2023. All rights reserved.