The outgoing chief justice of South Korea, Park Han-chul, has urged for a ruling on President Park Geun-hye's impeachment by 13 March to ensure a fair trial.
Judge Park made the announcement at the start of the ninth hearing of the ongoing impeachment trial on Wednesday (25 January). He noted that his own retirement on 31 January and fellow justice Lee Jung-mi's departure on 13 March would reduce the nine-judge bench to seven and possibly distort the court's impartiality.
"A decision by the Constitutional Court is made after intense debate among the nine justices, so each justice carries enormous significance. In the event of an additional vacancy of a justice, this does not simply mean the absence of one person, but can lead to a distorted ruling," Park said.
"If another judge's seat is vacated, that is not just a matter of one vacated seat but could distort the outcome of the decision.
"Before larger issues arise in the makeup of the Constitutional Court, a final decision must be announced no later than March 13," the chief justice added in a public hearing as a ruling to unseat or reinstate Park requires the approval of six out of the court's nine justices.
But the scandal-hit president's lawyer Lee Joong-hwan expressed discontent over the announcement and said, "If the Constitutional Court is voicing the opinion of parliament, we can only question the fairness of the trial."
Justice Park responded by saying he won't tolerate such "insulting" and "groundless" talk against the court.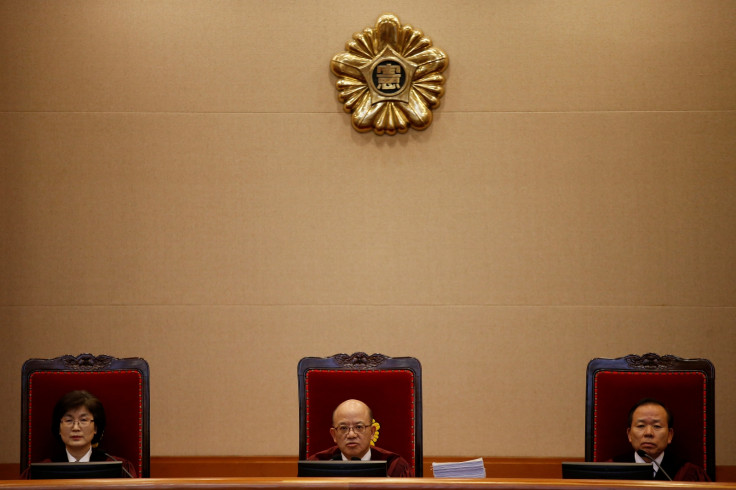 Park was impeached on 9 December by parliament after 234 lawmakers voted against her. She is accused of allowing her friend, Choi Soon-sil, to access government documents without authorisation.
The 64-year-old scandal-hit president remains in office but has been stripped of her powers while the Constitutional Court decides whether to unseat or reinstate her.
If the court upholds the impeachment, South Korea will hold a presidential election within 60 days. If Park is reinstated, the election will be held in December as scheduled.