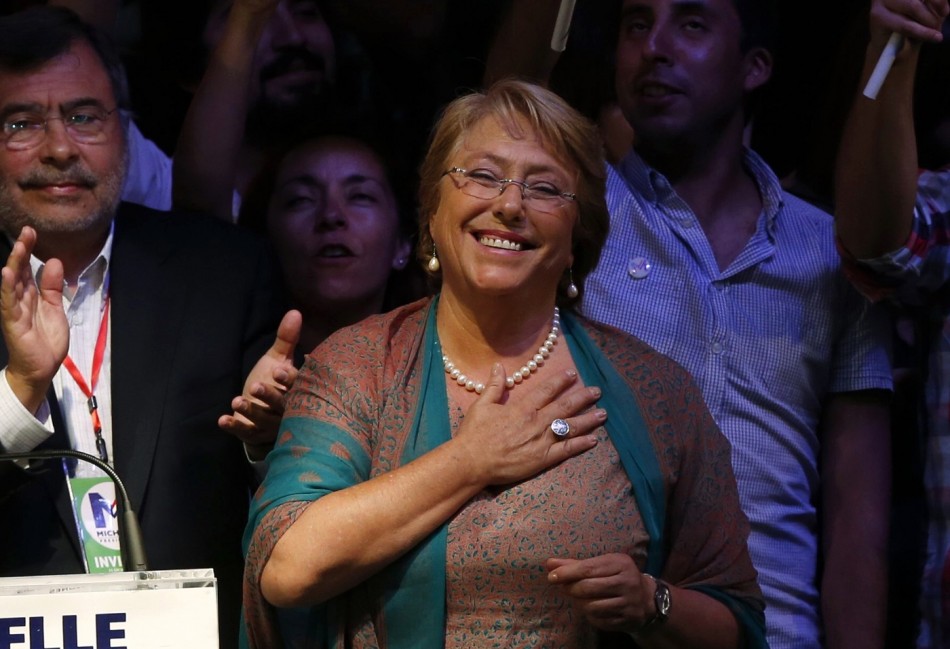 Michelle Bachelet scored a landslide election victory to become Chile's president for a second time.
The 62-year-old moderate socialist, who had previously ruled over the South American country from 2006 to 2010, won 62% of the vote. Her conservative rival, Evelyn Matthei got just 37%.
"I am proud to be your president-elect today. I am proud of the country we've built but I am even more proud of the country we will build," Bachelet said.
"If I'm here it's because we believe that a Chile for everyone is necessary. It won't be easy, but when has it been easy to change the world?"
A native of the capital of Santiago, Bachelet experienced imprisonment, torture and exile before going on to become Chile's first female president seven years ago.
The daughter of an air force general and an archaeologist, Bachelet had her life turned upside down by the 1973 bloody military coup that brought Augusto Pinochet to power.
Her father General Alberto Bachelet opposed the toppling of Chile's socialist president Salvador Allende and was arrested on treason charges on the very same day Pinochet troops stormed the presidential palace. Alberto Bachelet died in prison after months of torture.
In 1975, Bachelet, then a 24-year-old medical student at the University of Chile, and her mother, Angela Jeria, were also rounded up and imprisoned.
In prison she was threatened with execution, beaten, denied food and reportedly witnessed other inmates being tortured and raped.
Released into exile after about one month, Bachelet moved to Australia and East Germany, where she fostered her socialist political views before being allowed back in Chile in 1979.
When Pinochet was ousted from power in 1990 she officially entered the political scene.
In 2000 she was appointed as Minister of Health by President Ricardo Lagos and became defence minister two years later.
When she left the presidency in 2010 her approval ratings were as high as 84%, but Chile's constitution barred her from running for a second consecutive term. While out of office she headed the United Nations agency for women.
She has three children from two marriages, and supports same-sex marriage and abortion, which are illegal in Chile.