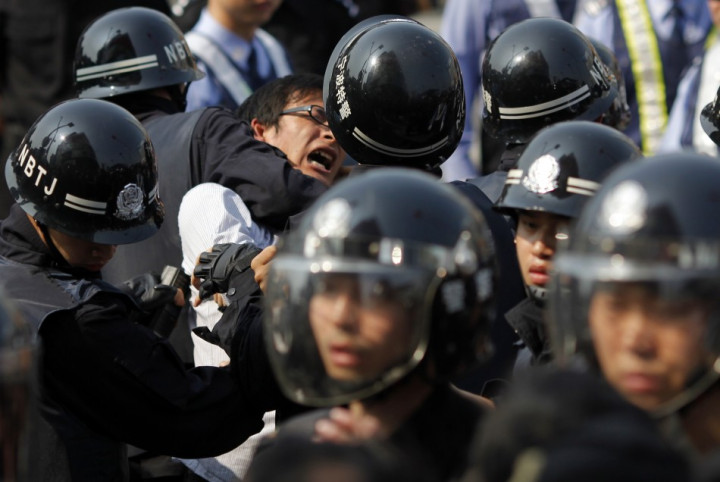 At least two activists who were jailed in the run-up to China's 18th Communist Party Congress have been beaten to death, human rights organisations have claimed.
Zhang Yaodong and Xu Wanxia died in mysterious circumstances, fellow activists from the Chinese Human Rights Defenders (CHRD) said.
The activists claimed that three days before the Congress started behind closed doors in Beijing's Great Hall of the People, Zhang, a petitioner from Henan province, was killed after he was detained by police.
Zhang had arrived in Beijing with three other activists to appeal to the central government - the last legal resource for those claiming to be victims of unlawful expropriation of property or other maltreatment.
He was released 24 hours after his arrest and told to leave the capital. But on his way out of Beijing he was assaulted and beaten to death by three unidentified men, CHRD said.
Another petitioner, Xu, 53, died in his home province of Anhui, eastern China, one day before Xi Jinping was anointed the new general secretary of the Communist party.
Xu was arrested in Beijing on 8 November. His family believes he died from injuries sustained in custody as his body was covered in bruises, Hong Kong's Information Centre for Human Rights said.
Chinese authorities cracked down on dissidents ahead of and during the Congress.
Thousands of people were arrested, put under surveillance or evicted from Beijing as part of the of the government's "maintenance stability" campaign, which Human Rights Watch said cost more than China's defence budget in 2012.
Among the detained was renowned blogger Zhai Xiaobing, 36. According to his friends, Zhai was arrested after posting on Twitter a few sentences describing the imaginary death of China's leaders during the Congress, the Daily Telegraph reported.
"The Great Hall [of the People] collapses all of a sudden. All 2,000 plus people in the meeting died instantly," Zhai tweeted.
"[Zhai's arrest] makes everyone a potential criminal. Every word we say may cross the line," blogger Wu Gan said. "The whole world is moving forward with the free speech trend, and we are swimming against it. It is unbelievable they'd take it seriously.
Zhai is still in jail.