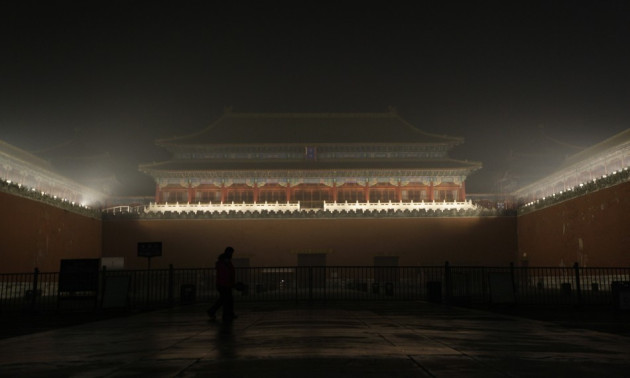 A thick, heavy smog has engulfed Beijing for many days, with tower blocks in the near distance almost invisible to the naked eye. Even visibility indoors has been hazy at times.
The air tastes of car fumes and coal dust, two of the main sources of pollution, according to a BBC report.
Rachel Harvey, a former BBC foreign correspondent tweeted: "Just landed in Beijing pea soup smog. Pollution so bad I can smell it inside airport terminal building."
WHO guidelines say average concentrations of the tiniest pollution particles - called PM2.5 - should be no more than 25 microgrammes per cubic metre.
Once inhaled, this fine particulate matter can cause respiratory infections, as well as increased mortality from lung cancer and heart disease.
Air is unhealthy above 100 microgrammes. At 300, all children and elderly people should remain indoors.
Official Beijing city readings suggested pollution levels at around 700, although an unofficial reading from a monitor at the US embassy recorded 800. For comparison purposes, the busiest parts of central London show a 24-hour figure of around 25 at the time of writing.
Nearly 2,600 people are expected to die prematurely in Beijing, and 3,300 in Shanghai, of diseases caused or aggravated by atmospheric pollution, according to the South China Morning Post.
The US Embassy in Beijing measures pollution levels using a device on its rooftop, and releases the information hourly via Twitter.
Last year, Chinese authorities warned the US embassy not to publish its data. But the embassy said the measurements were for the benefit of embassy personnel and were not citywide.
According to rules issued by the city government in December, all outdoor sports activities are to stop and factories have to reduce their production capacity if Beijing's official air-quality index exceeds 500.
Local officials warned that the severe pollution in Beijing - reportedly the worst since the local government began collecting data a year ago - was likely to continue for the next few days.
An online campaign calling for reform of the monitoring system in Beijing was launched last year.
The Beijing municipal environmental monitoring centre said on its website that the density of PM2.5 particulates had reached 700 micrograms per cubic metre in many parts of the city, a level considered extremely dangerous.
Air quality measured at all Beijing's monitoring sites "reached serious pollution levels" and people should "avoid outdoor activities," the Beijing Municipal Environmental Monitoring Centre said on its official account on the Weibo microblog service.
It was the city's fifth health warning since 1 January, when China adopted more stringent monitoring standards in 74 cities.
"The biggest challenge for air quality control in Beijing is the increase of pollutants," said Fang Li, spokesman for the municipal environmental protection centre.
"We can only improve air quality by making sure that pollution reduction outpaces increases in pollutants."
Fang cited the city's growing population, as well as an increasing number of cars and construction projects, as obstacles to improving air quality.
An online map published by the Beijing environmental centre showed all of its city monitoring stations coloured deep purple, the worst of six air pollution levels.
Beijing has targeted transforming all of its heating plants to burn natural gas instead of coal by the end of 2015.
China's air pollution is among the world's worst. It is thought to stem from the country's breakneck industrialisation, huge coal consumption, the world's biggest auto market and its increasingly car-clogged streets.