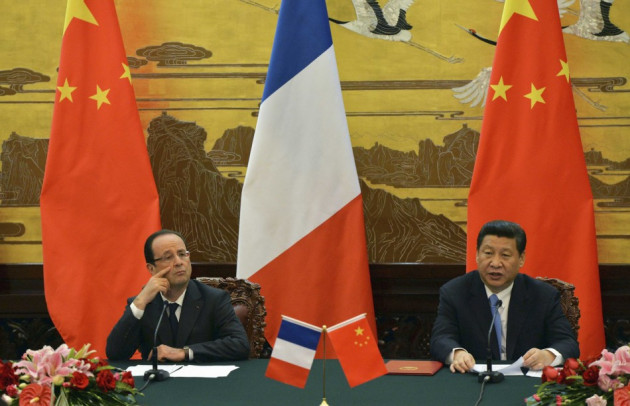 China will buy 60 planes from European aircraft maker Airbus under a memorandum of understanding signed by Chinese President Xi Jinping and French President Francois Hollande, who is on a two-day visit to China.
The deal worth $8bn (£5.2bn, €6.1bn) at list prices is the first since the European Union and China became embroiled in a spat over the controversial Emissions Trading Scheme.
Under the scheme that was opposed by China, the EU has charged airlines for the carbon emitted by planes. The EU later excluded foreign airlines from the scheme after countries such as Russia, India and the US opposed it, saying it violates international law.
In 2012, Airbus alleged that China blocked companies from purchasing its planes due to the row.
The deal includes an order for 42 Airbus A320 aircraft and 18 A330 planes, and was part of a series of France-China agreements signed in Beijing.
"The A320's high reliability and low operational cost has made it very popular with Chinese airlines. As congestion puts pressure on airports in large cities in China, the A330 is an excellent solution as larger aircraft can transport more passengers with less flights," Fabrice Brégier, President and CEO of Airbus, said in a statement.
As of the end of March 2013, there were about 750 A320 family aircraft in operation with 14 Chinese airlines, and more than 110 A330s in operation with a further six operators, according to Airbus.
In China, big-ticket purchases of foreign aircraft are controlled by the government. Aircraft makers such as Boeing and Airbus expect China to rival the US as their biggest market over the next two decades.
The deal is also expected to boost trade links between China and France. French trade deficit with China amounted to $34bn in 2012, which Paris says is unsustainable. In addition, France accounts for just 1.3% of China's foreign trade, while rival economy Germany accounts for about 5%.