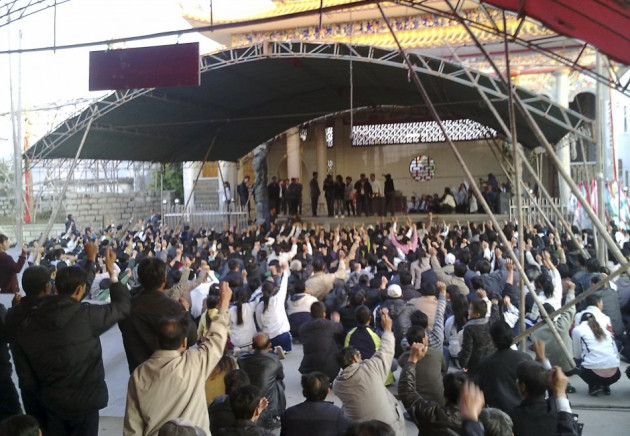 China's Internet censors have blocked searches about a continuing protest in the village of Wukan in Guangdong province, the BBC reports.
Sina Weibo, the Chinese Twitter-like microblogging site, displayed a message saying: "According to relevant law, regulations and policies, search results for Wukan cannot be displayed."
The southern fishing village, with a population of 20,000, is in open revolt against the Chinese Communist Party over a land dispute. The row, which began three months ago, intensified this week when a villager died in police custody. Villagers accuse corrupt local officials of taking away their land and selling it to property developers.
A standoff began on Monday, when thousands of residents blocked police from retaking the village. The police have since retreated to a roadblock, three miles away, with the aim of preventing food and water from entering into the village.
The villagers estimate that they have food enough left to last 10 days, according to the Telegraph's Malcolm Moore.
A user who posted video footage of the revolts on Sina Weibo saw his account deleted. The video allegedly showed police officers chasing a woman into a house, followed by woman's blood-curdling screams, Chinageeks' editor Charles Custer reported.
Members of both Chinese and foreign media were reported to be flocking to the besieged village on Wednesday.
According to BBC journalist Martin Patience in Wukan, villagers shouted "long lives Communist Party", but also "down with corruption, end to land theft". Other villagers were quoted by NBC's Adrienne Mong on Twitter as saying: "We don't want American media to get involved. We have our great leaders like Wen Jiabao, Hu Jintao."
The protest in Wukan appears to be one of the largest and most resilient uprisings in China in recent years.
"If you'd told me a few months ago that a Chinese town would band together, run the local officials out of town, resist a force of 1,000 police officers intent on entering the town again... I would have told you you were nuts," Custer said.
China's dissident artist Ai Weiwei, who was released from detention earlier this year, said that the Wukan rebellion is a showcase of "how extreme and incapable authorities are to communicate with people".