China-built rail network in African heartland inaugurated
The $4.2bn railroad links Djibouti in the Horn of Africa and the Ethiopian capital Addis Ababa.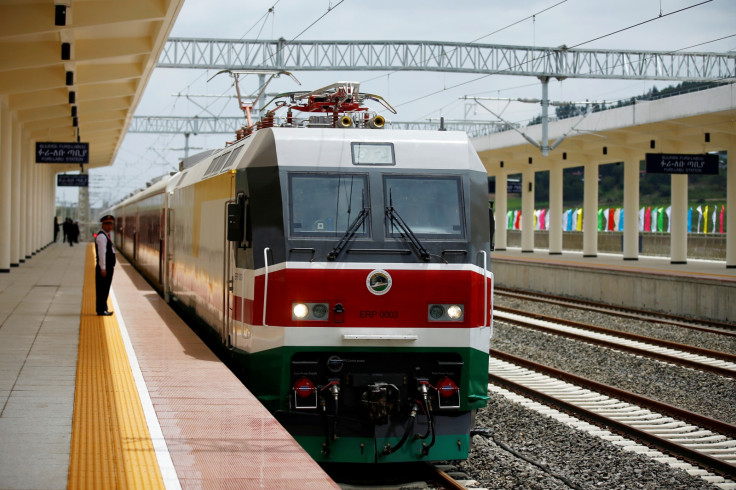 The 752km-long Addis Ababa-Djibouti Railway connecting the Ethiopian capital and the port city of Djibouti was inaugurated on Tuesday, 10 January, at Nagad railway station in Djibouti with several senior African officials in attendance.
The $4.2bn (£3.5bn) train line in Africa's heartland has been built by Chinese companies highlighting Beijing's increasing influence in the continent. China already has a strong presence in Djibouti, which hosts an array of projects backed by state-run firms.
Nearly 90% of Ethiopia's trade passes through Djibouti in the Horn of Africa which would make the train network a vital infrastructure. Ethiopian trade accounts for 70% of Djibouti's overall port activities.
"This railway marks a new dawn for Africa's integration into the global economy. From today, millions more Africans are now linked to Djibouti's world-class port facilities. Connecting Africa, Asia and Europe, Djibouti is at the heart of the world's trade routes, and we are proud to play a vital role in developing the region and wider continent," said Aboubaker Omar Hadi, Chairman of the Djibouti Ports and Free Zones Authority (DPFZA).
Passenger trains could run at a maximum speed of 160kms/hr, potentially reducing the travel time of 72 hours by road to a mere 12 hours. Cargo trains could run up to a speed of 120kms/hr. Trial runs began in October 2016 and regular services are expected shortly.
The project is also seen as a curtain raiser for the China-backed pan-African railway network, which will be about 2,000km long. The electrified railroad venture also reflects China's increasing clout in the continent, whose GDP is predicted to double by 2035.
Mostly funded by Beijing's Exim Bank, the entire network was constructed by two state-backed entities – China Civil Engineering Construction Corporation (CCECC) and China Railway Construction Corporation. While speaking at the inauguration, the chairman of one of the corporations pledged to pump more money into Africa for setting up more such projects.
© Copyright IBTimes 2023. All rights reserved.