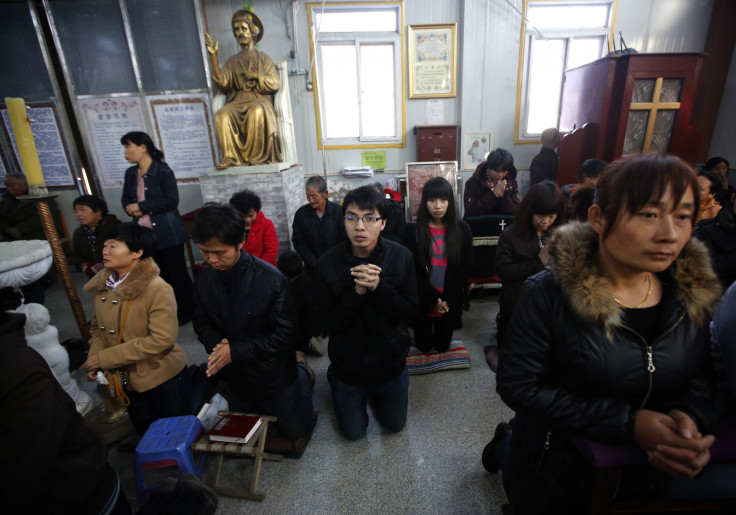 Chinese Christians took to the streets to protest a Communist party campaign to remove crosses from churches across Zhejiang province.
Activists claim that in a two-year campaign by authorities in the eastern Chinese province, 1,200 crosses have been removed from churches, in what amounts to a campaign of state persecution, reports the Guardian.
On 24 July, 89-year-old bishop Vincent Zhu Wenzhou led a protest outside the government offices in provincial capital Wenzhou.
A source told the Catholic UCA news agency that protesters were "moved to see the bishop leading the struggle to retain the symbol of their faith". Police monitored the protest but did not break it up, the agency reported.
Known as China's Jerusalem, Wenzhou is the centre of Christian worship in China. In September 2014, protesters barricaded themselves inside a Wenzhou church to prevent their cross being confiscated by authorities, CNN reported.
After a lull, authorities have escalated the campaign, confiscating crosses from churches across the province.
Authorities claim in confiscating the crosses, they are enforcing building regulations, but campaigners believe that the Communist party is cracking down on the religion.
"The leaders think Christianity is a foreign religion and it is part of a foreign culture, which they define as 'Western' culture," church leader Chen Zhi'ain told CNN. "They see our growth as an invasion of Western culture into China."
Catholic and Protestant church leaders in Zhejiang have criticised the removal of crosses, with Protestant pastors exhorting worshippers to put up a new cross in their homes or even their cars for every cross removed by police.
In the 1960s, churches and temples across China were ransacked by Chairman Mao's Red Guards in a state ban on religion.
Since Mao's death in 1976 and the end of the Cultural Revolution, the number of Christians in China has rocketed, with some experts predicting that by 2025, there will more than 160 million Protestants alone, making China the country with most Christians in the world.