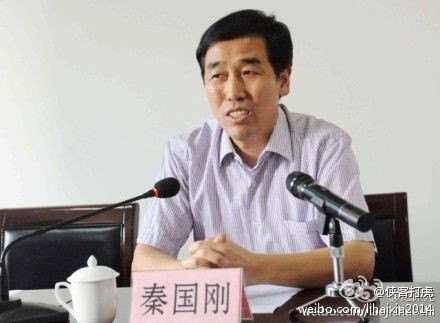 Qin Guogang, a vice-president of a Communist party training school in Shaanxi province, has been removed from his post after nude pictures of him emerged online.
The photos were part of a video shot in August at the home of a female postgraduate, known only as Li, with whom Qin allegedly had sexual relations, the woman's lawyer, Qu Jianguo, told Xinhua.
"Qin was aware the video was being taken," Qu added.
"Qin lied to me about being married and said that we would get married," Li wrote on her Weibo account. She claimed that she was called to Qin's office while his wife was there and that they both beat her.
Qin is now under investigation.
Party officials are banned from having mistresses but China is not new to political sex scandals.
Xie Zhiqiang, director of Jiangsu province's Bureau of Health, used Weibo to communicate with his mistress. The messages, which were not encrypted, revealed details of meeting times, hotel room number, and preliminary discussions of what they would be doing, according to the Economist Observer.
Xie was immediately suspended from his position and put under investigation for corruption.
Han Feng, director of the Tobacco Monopoly Bureau in Guangxi province, used his elevated status to enjoy the favours of no fewer than six women subordinates, the Economist Observer reported.
In response to the Qin Guogang scandal, President Xi Jinping to demand that China's political, business and social leaders promise that fixing corruption, which he said had reached crisis levels, would be the most important goal for the year ahead, The Australian reported.
Xi said that his government, entering its second year of power, would take a zero tolerance approach towards government officials involved in graft and taking bribes.
The Central Commission for Discipline Inspection reported that 182,000 officials nationwide were investigated by police for corruption in 2013 - an increase of nearly 14% on the previous year.
"Preventing the party from being corrupted in its long-term rule of the country is a major political mission and we must do it right," Xi said.
"Do not let regulations become 'paper tigers' or 'scarecrows'. Every official should keep in mind that all dirty hands will be caught."