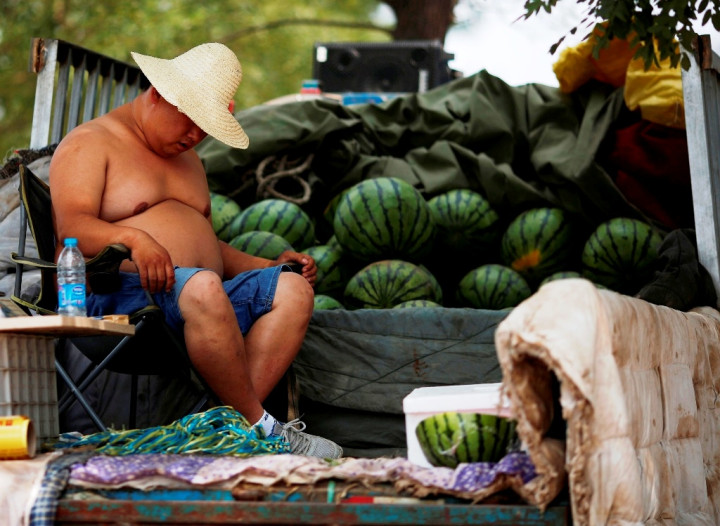 China's consumer inflation edged up to a four-month high in May while factory price deflation eased further, supporting signs of stabilisation in the world's second-largest economy.
China's consumer price index (CPI) rose 2.5% in May from a year ago, led by food inflation, following April's 1.8% increase, according to government data.
Food prices shot up 4.1% in May from a year ago, following April's 2.3% increase, data from the National Bureau of Statistics (NBS) showed on 10 June.
Consumer prices rose 0.1% on a monthly basis as against a forecast for a 0.1% fall.
The Chinese government has set an inflation target of around 3.5% for 2014.
PPI Eases
Meanwhile, the producer price index (PPI) shed 1.4% in May from a year ago, logging its 27th successive month of decline. The PPI fell 2% in April.
Producer prices fell 0.1% on a monthly basis.
Yu Qiumei, a senior statistician at the NBS, said easing factory price deflation in May pointed to a rising demand for industrial products, reported Reuters.
Analyst Take
Barclays Capital said in a note: "We think this jump in CPI inflation should not constrain monetary easing. We think the rise in pork prices will not be sustained as we expect demand for pork to drop in coming months, the usual low season.
"... we do not see rising pork prices or [the] El Niño threat in the summer posing significant risks to our 2014 CPI inflation forecast of 2.4%, or acting as a constraint on further monetary easing."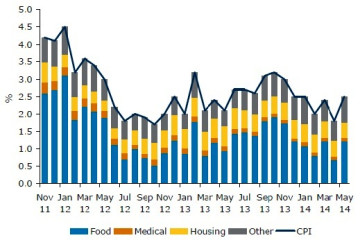 ANZ Research said in a note to clients: "China's inflationary outlook remains mild amid economic slowdown. We thus revise down our CPI inflation forecast for 2014 to 2.8% from 3.2-3.4% previously...
"We believe that a 50bps [reserve requirement ratio] cut to all banks can be expected in Q3 if the real activity data deteriorate further."
Bill Adams, senior international economist for PNC Financial Services said in a note: "In the CPI report, the best proxy for the cost of labor intensive services, the sub-index for home services and repairs, rose 7.3% in year-ago terms in the first five months of the year. Triangulating with producer prices, still falling 1.4% in year-ago terms in May, and it looks like the cost of proxies for unskilled labor are rising roughly in line with nominal GDP."
"There are two important market signals for the Chinese economy out of this report. The first is from the PPI report: industrial overcapacity is a genuine problem, although some of the year-ago decline in prices reflects pass-through of global declines in energy prices in the first half of 2014.
"The second signal is from the CPI report: there is negligible slack in the Chinese labor market, reflected in rapidly rising costs of labor-intensive services - laborers are able to wield pricing power in wage negotiations.
"Chinese policymakers will see continued pressure on corporate balance sheets from these reports, but also see minimal chance that slower economic growth could threaten social stability.
"China's May inflation data [could] give the government latitude for policies like [9 June's] targeted reserve requirement cut, which looked to be more about fostering competition in China's financial sector than about spurring faster credit growth," Adams added.
Chinese manufacturers have struggled to handle profit-eating price declines, mounting pressure on the nation's Communist regime to take steps to lessen the financing burden on firms.
However, Beijing has ruled out any large stimulus with the country still treating the hangover from the 4tn yuan ($640bn, £381bn, €471bn) stimulus employed during the global crisis in 2008-09, which has boosted local government debt.