China cuts 2015 growth target to 7%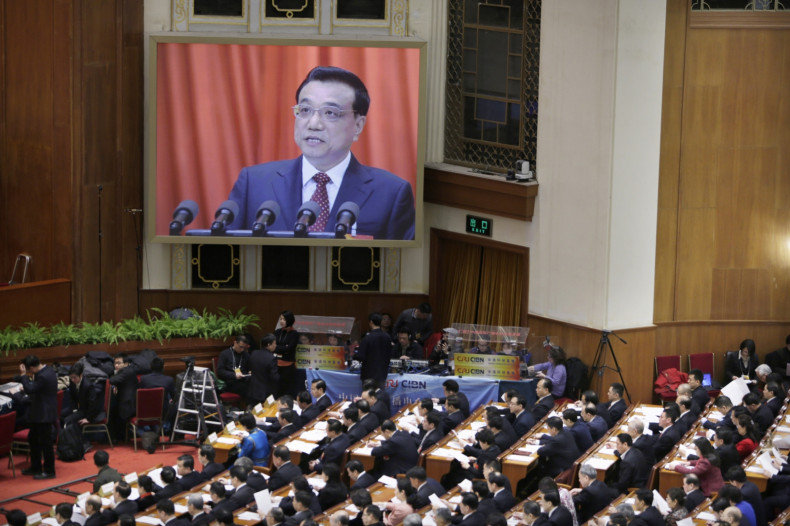 China has lowered its 2015 growth target to about 7%, as the world's second-largest economy embraces the so-called 'new normal' that gives preference to quality over quantity.
At 7%, the country's growth rate will be the lowest for about 25 years. In 2014, the economy grew by 7.5%.
The government also lowered the growth target for fixed asset investment to 15% from 17.5% in 2014. The growth targets of foreign trade and retail sales have been lowered by 1.5 percentage points to 6% and 13%, respectively.
The consumer price inflation target has been lowered to 3% in 2015 from 3.5% in 2014. The fiscal deficit target is raised to 2.3% of nominal gross domestic product, compared with 2.1% last year.
Meanwhile, China will maintain the target of newly created jobs at 10 million, unchanged from last year.
The new targets were unveiled at the National People's Congress, China's annual legislative session.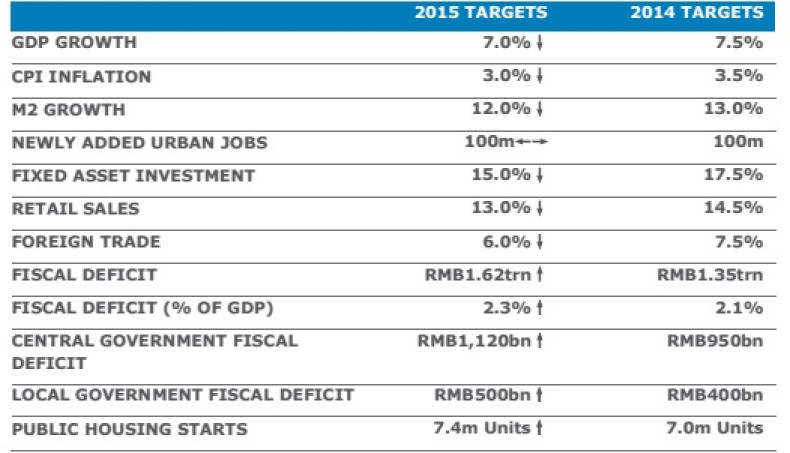 In order to rein in rising levels of local government debt, the central authorities will strengthen the management over local government debt. The measures include releasing local government debt data on a regular basis, improving the maturity structure of local debt and imposing a quota management system on local debts.
Having recorded double-digit growth rates for almost two decades, China's economy has been facing a growth slowdown in recent years. However, China's leadership is seemingly accepting the slow growth rate as they highlight a balanced and sustainable growth model for the economy.
Chinese leaders have been discussing about China's "new normal" economy – a new model that involves shifting from the previous high speed to a medium-to-high speed growth, improving and upgrading of the economic structure, and promoting innovation as a stronger economy driver than input and investment previously.
"Given the government focuses on the implementation of economic and structural reforms spelled out by the 3rd plenum document this year, there is not much upside for economic growth," said economists at ANZ bank.
Earlier, the International Monetary Fund (IMF) slashed growth projections for China citing slowing investment growth.
The Chinese economy will expand 6.8% in 2015 and 6.3% in 2016, as per the January edition of the IMF's Global Economic Outlook, down from October projections of 7.1% and 6.8%, respectively.
China's growth is expected to come down gradually to 7.1% in 2015, 7% in 2016 and 6.9% in 2017, according to the World Bank's twice-yearly Global Economic Prospects report.