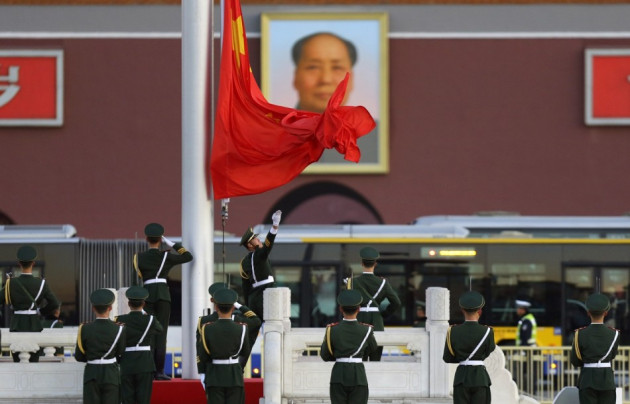 In a wink to human rights groups, China announced it is to loosen its one-child policy, abolish the much-criticised labour camp system and reduce use of the death penalty, as part of a raft of major reforms announced by the Communist Party.
Chinese couples will be allowed to have two children if at least one parent is an only child, according to a key policy document released by the official Xinhua News Agency following a four-day meeting of party leaders.
"The birth policy will be adjusted and improved step by step to promote 'long-term balanced development of the population in China'," Xinhua reported.
The one-child policy was first adopted to control population growth in the 1970s.
The law, which exempts some categories of people including rural dwellers and ethnic minorities, has been heavily criticised by rights groups which have long claimed it boosted human trafficking and forced abortions.
One of the policy's major side effects has been the creation of an imbalance between the male and female population, as Chinese parents' cultural preference for boys has led to a relative female scarcity in the country.
Foetuses which ultrasound scans show to be female are often aborted and first-born girls fall victim of infanticide, right groups allege.
It has been calculated that in China there are 120 male births for every 100 female births.
The latest reform was decided earlier this month at the third plenary session of the 18th congress of the 205-member Communist Party of China (CPC) central committee in Beijing.
The key political meeting was the first of its kind to be held under the presidency of Xi Jinping and attended by the new generation of Chinese rulers, who were appointed by the central committee in November last year.
Labour camps

Alongside other sweeping economic and social reforms, top party officials also approved a revision of the country's correction and punishment system.
"China will abolish the 're-education through labour' system as part of a major effort to protect human rights," Xinhua reported.
China set up its infamous labour camps decades ago to punish early critics of the Communist Party, and the system is now used to intern people challenging the authority of local officials on issues including land rights and corruption.
Xinhua didn't immediately provide more details on the 'whens' and 'hows' of the camps closure but the announcement was nevertheless welcome news to rights groups.
"Whilst further assessment and detail is needed, the policy moves on the surface appear to be a sizeable step in the right direction," Keith Bowman, equity analysts at Hargreaves Lansdown told Reuters.
"There have been many methods used recently by this government that are against the rule of law, and do not respect human rights, or freedom of speech, but by abolishing the labour camps ... it makes it much harder for the police to put these people they clamp down on into labour camps," added Pu Zhiqiang, a prominent Beijing lawyer who has represented several former labour camp detainees in seeking compensation. "This is progress."
Party leaders also decided a "step by step" reduction of the number of crimes subject to the death penalty as well as a crackdown on "extorting confessions through torture and physical abuse".
China executes about 1,000 people a year, making it the world's leading country for capital punishment, according to Amnesty International.
Although welcomed by rights groups, the three reforms were adopted mostly for internal, practical reasons, said Dr Reza Hasmath, departmental lecturer in Chinese Politics at the University of Oxford.
"Ideally, it will be lovely to say that the reforms [...] were due to international pressure or an overt human rights agenda," Hasmath said. "I would suggest that this played little to no role in the internal thinking."
Hasmath argued the abolishment of the labour camp system and the reduction of crimes subjected to the death penalty follow a recent trend of reforms set to modernise China's legal system. The relaxation of the one-child-policy serves labour force goals instead.
"Simply put, this [policy] has reduced China's labour force," Hasmath said. "For the first time in decades the working age population fell in 2012.
"Moreover, current projections, without policy interference, suggest that the labour force will shrink at a rate of 10 million per year from 2025 onwards. Thus, it was prudent (and pragmatic) to introduce a two-child policy to increase the working age population to support China's evolving economy," he said.